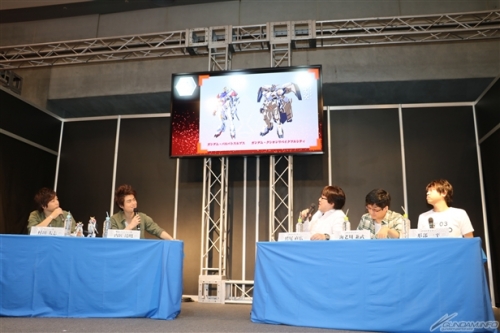 At "The 56th Annual All Japan Model & Hobby Show 2016," the country's largest hobby event that features and announces new items such as plastic models, radio-controlled models, and figurines, a special stage was held on September 25th (Sun) for the "Mechanical Designers x Iron Flower Special Symposium" panel.
In addition to Mobile Suit Gundam Iron-Blooded Orphans cast members Mr. Yasuaki Takumi (Akihiro Altland) and Mr. Taishi Murata (Norba Shino), mechanical designers Mr. Naohiro Washio, Mr. Kanetake Ebikawa, and Mr. Ippei Gyoubu went up on stage. Various discussions regarding the mechanical designs of Iron-Blooded Orphans unfolded on stage.
Let's go into the report on the structure of the talk show without any further delay.
First, Mr. Takumi and Mr. Murata stirred up the audience by greeting and exchanging their characters' lines on stage. Next, in regards to a highlight of the second season, which will begin airing from October 2nd (Sun), Mr. Takumi said, "Other characters with the same nature as Altland increases so I would like the audience to also pay attention to the reason why that is so." Mr. Murata said in relation to his character role, "I hope that the viewers will pay attention to what has become of Shino who has now become a "superior" after being a newcomer to Iron Flower."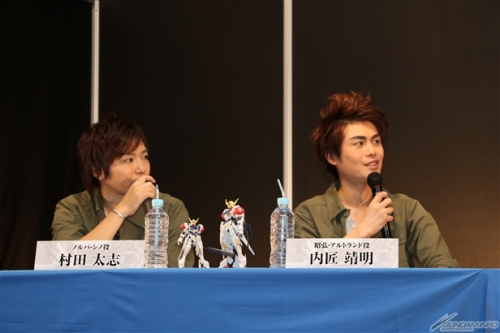 ▲From the left: Mr. Taishi Murata, Mr. Yasuaki Takumi
Next, mechanical designers Mr. Washio, Mr. Ebikawa, and Mr. Gyoubu were called up on stage. The three designers then introduced the mobile suits they designed. Mr. Washio said in regards to the Gundam Gusion Rebake FullCity, "As Rebake was a recycling of Gusion's parts, it was a design that wasn't very cohesive, but I believe that FullCity is a more cohesive design than Rebake." When the discussion suddenly turned to the world of Iron-Blooded Orphans, Mr. Ebikawa said, "Please look forward to the roles of Geyle and Reginreis who are Graze based types." Mr. Gyoubu said, "I designed the MS while thinking of how I could expand more on the world that the Director and the others have created," and spoke of the style of his designs.
Afterwards, the PV of the second season was shown and, at last, the symposium began.
When Mr. Takumi asked Mr. Washio about his design concept for FullCity, he answered, excited for its role in the story, "I designed FullCity by stressing the need for it to be able to fight in close combat like Barbatos."
Mr. Murata asked about the MS everyone was interested in. Mr. Ebikawa replied with the Graze, Mr. Gyoubu the Gundam Kimaris, and Mr. Washio the Gundam Barbatos Lupus. Mr. Murata brought up that the Kimaris had more screen time than he had imagined and offered the fact that the Lupus had many complicated curves as the reason. When asked about their occupational disease, the three designers answered together, "It's always searching for new designs and discoveries."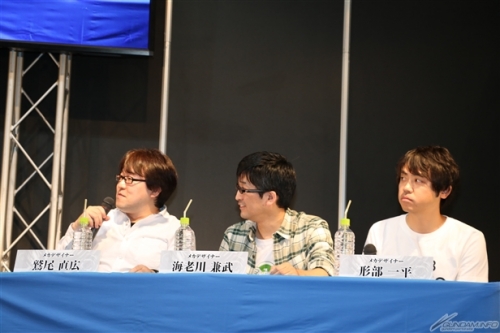 ▲From the left: Mr. Naohiro Washio, Mr. Kanetake Ebikawa, Mr. Ippei Gyoubu
Next Mr. Takumi and Mr. Murata challenged themselves with color designing their own MS. Thus began the "Coloring Project" judged by the three mechanical designers.
As Mr. Takumi's hometown is Nagoya, he imagined the gold of the shachihoko (mythical tiger-carp) and used its image as his focus for coloring FullCity. When it was revealed that he had signed the back with his own name, Mr. Washio commented, "I think that is cool," and received a high rating.
Mr. Murata colored the Shino's Shiden Custom (Ryusei-Go). The audience raised their voices in surprise when a rainbow Ryusei-Go was projected on the screen. Mr. Gyoubu commented, a slight worried expression on his face, "Like the AMeDAS, the different colors seem difficult. It would probably be difficult to operate in animation."
They then presented the colorings of Reginreis by Ms. Mao (Julietta Julis) and Barbatos Lupus by Mr. Kengo Kawanishi (Mikazuki Augus) who were not present at the venue.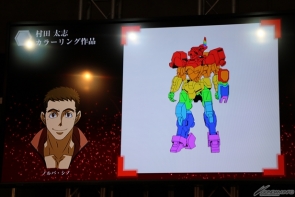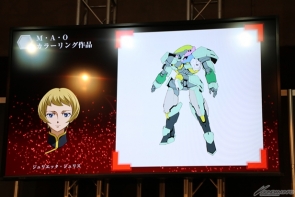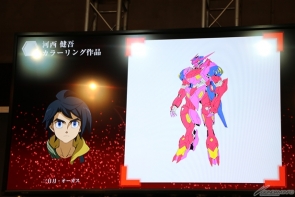 They then announced that the Gunpla that were colored will be on display at the "Gunpla EXPO World Tour Japan 2016 WINTER" that will be held on November 19th (Sat). Both Mr. Takumi and Mr. Murata said excitedly, "We are excited to see in what way the colorings that we did today will be like reproduced on the Gunpla!"
Lastly, they announced that from September 30th (Fri), Gunpla signed by the cast can be won at the "Singing Campaign" held by Karaoke DAM in Ikebukuro Parco which will have the "Gunpla x Iron-Blooded Orphans Exhibition" in late October. Each speaker gave their final messages and the curtain was closed.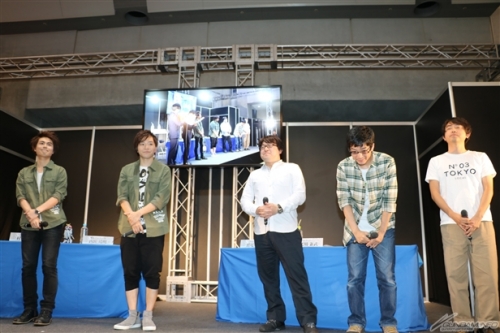 Ippei Gyoubu
I requested to be shown the scenarios from season two and season one has become only an "introduction." I hope that the audience will look forward to the broadcast.
Kanetake Ebikawa
There will be various MS and Gundam Types that will appear that will surprise the audience, so look forward to it.
Naohiro Washio
Gundam is doing very well and I believe that other plastic model and robot series will also do well as they release, so let's get fired up from Gundam. Thank you very much.
Taishi Murata
I am currently recording for the series while enjoying and getting excited by each and every episode. I really do not know what will happen in season two, so "Everyone, you'll look forward to it, yeah!"
Yasuaki Takumi
Finally starting next week, the second season of Iron-Blood Orphans that we've eagerly awaited for will begin. It has really become an interesting story and you can also expect even more serious development. I have no doubt that this will become a series that will leave its mark in everyone's hearts. I will definitely not let you regret it, please watch it. Thank you very much!
(Gundam Info Editorial Department)
The 56th Annual All Japan Model & Hobby Show 2016
[Schedule] September 24 (Sat) & 25 (Sun), 2016
[Venue] Tokyo Big Sight, West Hall 3 & 4



Abilita i cookie per visualizzare gli articoli raccomandati