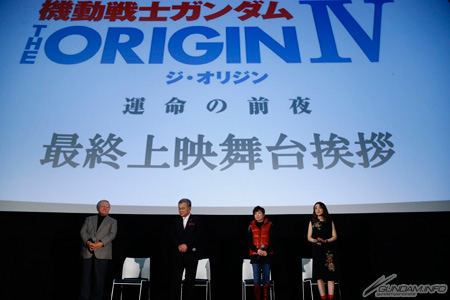 The screening event for Mobile Suit Gundam THE ORIGIN IV Eve of Destiny began on November 19th (Sat) and took place for a limited time for 2 weeks at 15 theaters country-wide. The final stage greetings took place on December 2nd (Fri), the final day of the event, at Shinjuku Picadilly in Tokyo.
On this day, General Director Yoshikazu Yasuhiko, Mr. Shuuichi Ikeda (Char Aznable), Ms. Mayumi Tanaka (Casval Rem Deikun), and Ms. Megumi Han (Artesia Som Deikun/Sayla Mass) were guests on stage. The two voice actors of the childhood counterparts of the brother-sister pair celebrated the conclusion of the "Char & Sayla Arc."
With the conclusion of the 4-episoded arc, the conversation turned to their thoughts on the entire arc from episode 1 "Blue-eyed Casval" to episode 4 "Eve of Destiny." First, they were asked about their thoughts on episode 4. Ms. Han said, "It's frightening to see the situation go towards war. Also, Amuro in only his underwear is cute." Ms. Tanaka commented, "It was great to be able to see Tem Ray depicted as a father figure."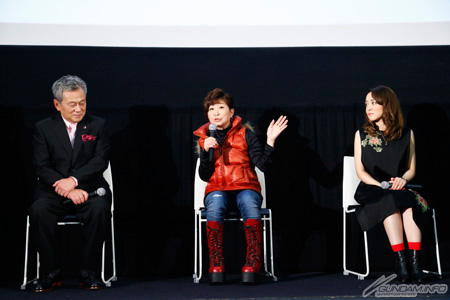 They were then asked on what event between episode 1 – 4 left an impression on them. Mr. Yasuhiko said, reflecting that, "I don't normally make public appearances, so it was difficult to stand in front of 2,500 people at the first premium screening in the Tokyo Metropolitan Hibiya Public Hall." Ms. Tanaka and Ms. Han had the same opinion, "We were nervous during both the recordings and events."
Next, they were asked about what they thought of as the most impressive scene from episodes 1 – 4. Ms. Han said, "Within the series as a whole, it would be the separation scenes. The series depicted various kinds of separations – a separation with her father, with her mother, and then, finally, with her brother." Ms. Tanaka answered with, "When the real Char appeared. I thought, ah~ He'll get killed." Mr. Ikeda's answer was, "The close-up of Casval during episode 1. He has striking blue eyes, but those will soon be dyed in red."
There were scenes that were well-executed in the original comics that were well-executed in animation as well. Mr. Yasuhiko said, "There is a scene in episode 3 where Char saves Garma during marching practice. The moment when Mr. Ikeda says, "This is your palace." I thought that it was great and was satisfied." He then talked about the last scene of episode 2 where brother and sister separate, "This is a suspicious scene. However, I have confidence in that probably no one thought of this scene as being fishy," and spoke of his great accomplishment conveyed through animation.
Mr. Yasuhiko also spoke about the two episodes of the Loum Arc: episode 5 "Clash, Battle of Loum," scheduled to have its screening event in Fall 2017, and episode 6 "Birth of the Red Comet," scheduled for 2018. He said, "The Loum Arc is a heavy war story. It has been established that the dropping of colonies is inevitable and tragedy occurs when half of mankind is wiped out. However, this war is vigorous and thrilling to some aspect. Char, as a character, is at his maximum radiance in this war and will become the Red Comet. The Loum Arc is packed with this kind of irrationality, so I would like for fans to see it as soon as possible. That is why we will work hard so that there won't be a long waiting period between episode 5 and 6."
How will the death of 5 billion people be depicted? We are eager to see how this issue will be addressed in the anime as it was in the original comics.
It was also Mr. Ikeda's birthday on this day as well as Mr. Yasuhiko's birthday on December 9th (Fri) of the following week. The two were presented with cake and bouquets as a surprise event.
The entire audience sang a birthday song together and the stage greetings ended in a blessed mood.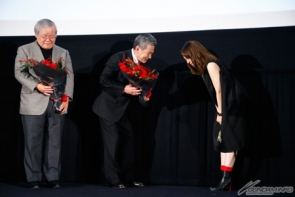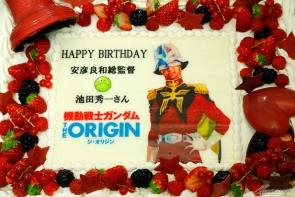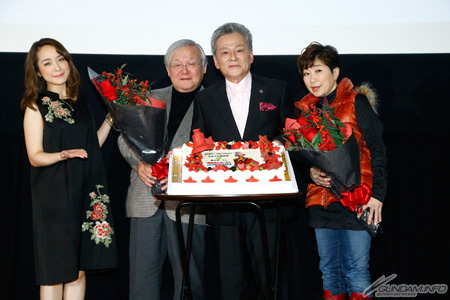 ▲ From the left, Ms. Megumi Han, General Director Yoshikazu Yasuhiko, Mr. Shuuichi Ikeda, and Ms. Mayumi Tanaka
The Mobile Suit Gundam THE ORIGIN IV Eve of Destiny Blu-ray and DVD are currently popular products on sale through Bandai Visual. The first limited-edition Blu-ray, full of with wonderful bonuses, is also being sold through the official Bandai Visual Club online store.

The first limited-edition Blu-ray is 9,259 yen, the standard edition Blu-ray is 6,800 yen, and the DVD is 5,800 yen. All prices are listed excluding tax.
(Gundam Info Editorial Department)

Abilita i cookie per visualizzare gli articoli raccomandati