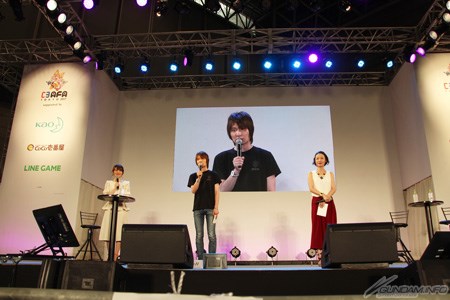 ▲ From left to right, MC Ms. Yuki Ayami, Mr. Tomoaki Maeno, and Ms. Sachi Kokuryu
The "Gundam Special Stage 2017" took place at the main stage of C3AFA TOKYO 2017, Japan's largest character and hobby event, on August 26th (Sat).
Mr. Tomoaki Maeno, voice of Rino Fernandes from Mobile Suit Gundam THE ORIGIN, and surprise guest Ms. Sachi Kokuryu, voice of Reiji from Gundam Build Fighters, appeared on stage.
This was a stage full of Gundam information, including information on the latest products and more, in addition to a talk regarding Mobile Suit Gundam THE ORIGIN: Clash at Battle of Loum, which will finally begin screening at 35 theaters nationwide from September 2nd (Sat), and the currently popular streaming series Gundam Build Fighters: GM's Counterattack.
Now, let's go into the event report.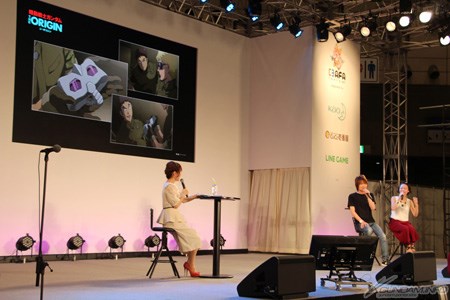 The MC was Ms. Yuki Ayami who is well-known through the Mobile Suit Gundam Online Gundam Online PR and more. As a large audience gathered, Mr. Maeno, voice of Rino, appeared on stage and loud cheers erupted from the audience.
Mr. Maeno, who says that he personally loves Gundam, said during his opening greeting, "My next goal is to ride a transformable Gundam!" which caused laughter to erupt from the audience.
Ms. Sachi Kokuryu then appeared as a secret guest. She spoke of her love towards the series, "I thought of Reiji and came with sunglasses on!"
Once their individual introductions were finished, the stage then moved onto the Mobile Suit Gundam THE ORIGIN corner.
In this corner, a scene from episode 3, "Dawn of Rebellion," where Rino hands a new mask to Char was shown as the best scene from the series as chosen by Mr. Maeno. Mr. Maeno gleefully said, "I'm happy to be able to hand Char his mask which is an important key item for him."
The highlights of "Clash at Battle of Loum," which is approaching its public opening on September 2nd (Sat), were also shown. He passionately spoke of the many highlights and said, "In any case, the quality of these mobile suits is high."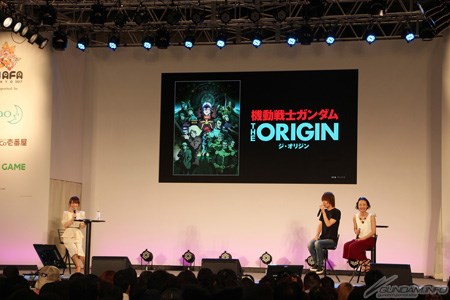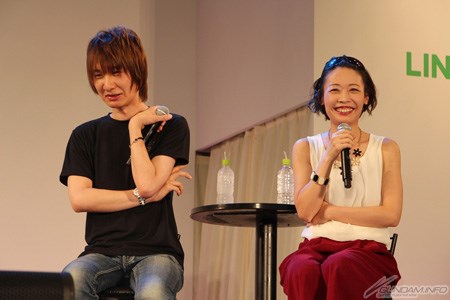 Next was the Gundam Build Fighters corner.
Ms. Kokuryu said when asked about her thoughts after voicing Reiji for the first time in a while, "Reiji lived on inside of me. He was saying to hurry up and bring him out; I was excited and couldn't stop smiling. It was really fun."
She also talked about her recommended part of GM's Counterattack, "I want everyone to watch those prideful fists and the battle in which those fists will clash in dream competitions, where you will be able to see many GMs, and in Gundam battles where no one dies in." When talking about Battlogue, she said, "The theme of having dream competitions is the real thrill of Build Fighters, so I really look forward to Battlogue in the future where those competitions can be realized."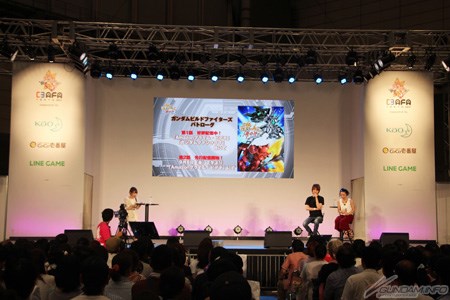 Once the Build Fighters corner ended, a video of Mobile Suit Gundam 00 played onscreen. When it did so, a special message for the audience from Mr. Miyu Irino, voice of Saji Crossroad, who works as the MC for Celestial Station 00 II played.
Afterwards, the latest 00 products as well as the latest information related to various Gundam series were introduced one after another.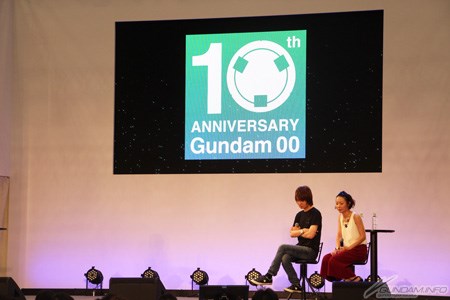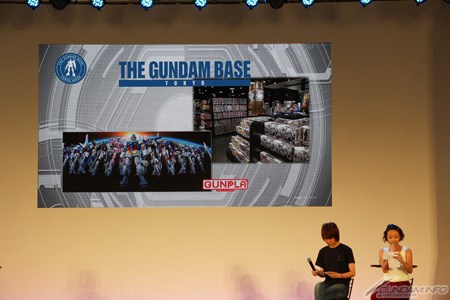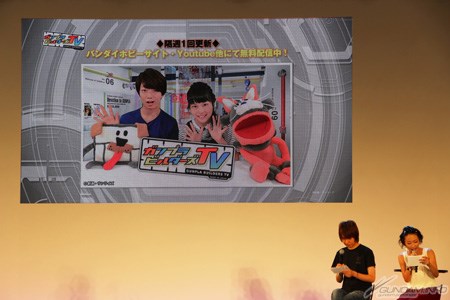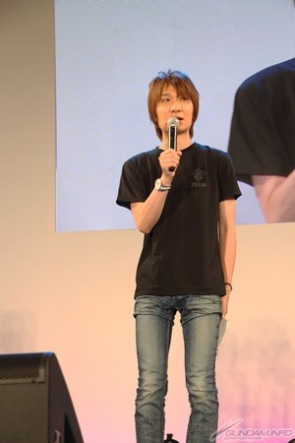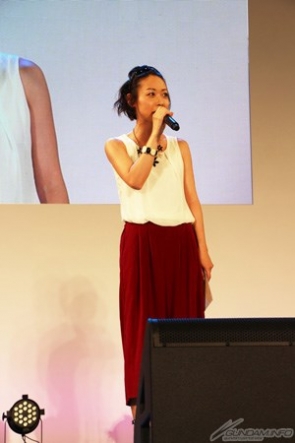 Lastly, the two guests gave messages to the audience and the stage came to an end.
Tomoaki Maeno
Gundam THE ORIGIN: Clash at Battle of Loum will soon open to the public, so I would definitely like it if everyone watches it in theaters. Also, if you happen to see the characters we voice in games and other media, then I would be happy if you were to give us your support. I would also like to continue supporting the world of Gundam alongside everyone. Please continue to support us and thank you.
Sachi Kokuryu
I'm so grateful that so many of you have come despite it being a hot day today. As for Gundam Build Fighters, a new project is also beginning; I'm very happy that the series is an assured means of enjoyment for Gundam. I would like it if everyone continues supporting the world of Build Fighters in the future as well. Thank you very much for today!
(Gundam Info Editorial Department)
C3AFA TOKYO 2017
[Schedule] August 26 (Sat) & 27 (Sun), 2017
[Venue] Makuhari Messe
Abilita i cookie per visualizzare gli articoli raccomandati