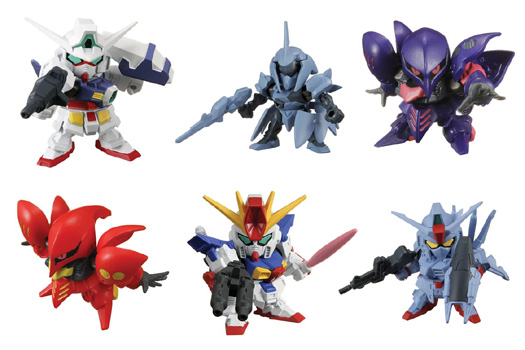 ■
Gashapon Senshi NEXT 04
Price: ¥200 each
Date: Early October 2011
Sold from capsule machines at toy shops nationwide
Gashapon Senshi NEXT 04, the next evolution in SD Gundam, goes on sale in early October! New joints make them even more playable!
The Gundam AGE-1 Normal and Gafran from Mobile Suit Gundam AGE make their first SD appearance! Plus Mobile Suit Gundam ZZ's ZZ Gundam, Qubeley Mk-ii (in Ple and Ple Two colors), and Gundam Mk-III round out the 6-figure series!
▼ Six varieties:
1. Gundam AGE-1 Normal
2. Gafran
3. Qubeley Mk-II (Ple's)
4. Qubeley Mk-II (Ple Two's)
5. ZZ Gundam
6. Gundam Mk-III
▼ One per capsule!
※ Release date varies by region and retailer.
Abilita i cookie per visualizzare gli articoli raccomandati