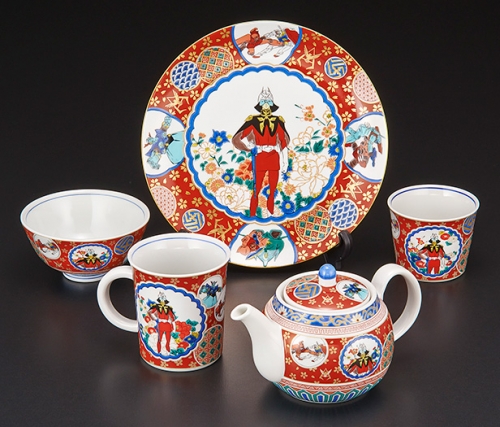 A variety of 6 "Shouza-style Gundam Kutani-ware Red Comet" will be sold at each Gundam Café and at Gundam Square in Osaka beginning from December 10th (Sat.)
The products themselves are a part of the 8th installment of the "Discovery-G" series, a blend of both Japanese tradition and extraordinary technologies distributed by Gundam's information center, GUNDAM Café. This installment is a collaboration between Mobile Suit Gundam's Red Comet, otherwise known as Char Aznable, and the representative "Shouza" style of painting of Kutani-ware which boasts 360 years of history.
Its color usage, predominantly Char's red image color, distinguishes it from other Kutani-ware and is finished with a prominent aura of mystery from Char's nobility. Designs include Char's dignified standing figure, the mobile suit "Zeong" that Char pilots in the series, and even renown scenes from the series such as the battle scene between "Char's Zaku" and "Gundam." The product lineup includes 5 varieties of plates, mugs, rice bowls, teapots, and sake cups as well as a mug, rice bowl, teapot, and sake cup included as a set of 4 for a total of 6 different designs.
These products are both an effective "fusion between Gundam and the Japanese-style" and daily-life works of art. Let's collect these products.
For more details on the products and Premium Bandai reservations, please read this article. Premium Bandai reservations will close on December 9th (Fri) at 11:00pm, so please make your reservation as soon as possible if you would like to procure these products.
GUNDAM Café Akihabara
[Address] 1-1 Kanda Hanaoka-cho, Chiyoda-ku Tokyo
[Access] 1-minute walking distance from JR Akihabara Station
2-minute walking distance from TSUKUBA EXPRESS Akihabara Station
3-minute walking distance from Toei Shinjuku Line Iwamoto-cho
[Business Hours] 10:00am – 10:30pm
GUNDAM Café Diver City Tokyo Plaza
[Address] 1-1-10 Aomi, Koto-ku Tokyo DiverCity Tokyo Plaza 2F
[Access] 3-minute walking distance from Rinkai Line Tokyo Teleport Station
5-minute walking distance from Yurikamome Line Daiba Station
[Business Hours] 10:00am – 9:00pm
GUNDAM SQUARE
[Address] 2-1 Senribanpakukoen, Suita-shi Osaka Prefecture inside Lalaport EXPOCITY
[Access] 2-minute walking distance from Osaka Monorail Bampaku-kinen-koen Station
[Business Hours] 11:00am – 10:00pm
Abilita i cookie per visualizzare gli articoli raccomandati