31º ottobre 2011
Gundam appears on Inagi City's 40th Anniversary stamps and residence certificates! Plus an exhibition of Kunio Ogawara's works!
Limited-edition goods now on sale feature Ogawara's Gundam and Yatterman!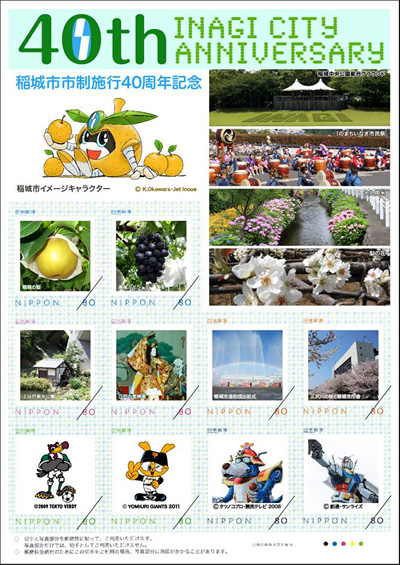 Tokyo's Inagi City celebrates its 40th anniversary with residence certificates and stamps featuring Gundam and other characters!
The project reflects Mobile Suit Gundam mechanical designer Kunio Ogawara's residence in the city. Mr. Ogawara has previously created image characters for Inagi City.
A limited edition of 1,500 stamp books featuring characters from Ogawara works such as Gundam and Yatterman, as well as Inagi City landscapes and produce, will be sold at Inagi City post offices.
Beginning November 1st, a limited-edition run of 40th anniversary residence certificates featuring Gundam and Yatterman will also be available. Even if you're not a resident, simply bring ID on a weekday for honorary citizenship!
An exhibit of Kunio Ogawara's works will also be on display beginning January 21st at the Inagi City Plaza.
More details will appear on the websites of both
Inagi City
and
Kunio Ogawara
as they are announced.
Inagi City 40th Anniversary Stamps
Date
On sale now
Price
¥1,200
Quantity
Edition of 1,500
Availability
Inagi City post offices
Inagi City 40th Anniversary Residence Certificates
Dates
November 1st, 2011 - mid-March 2012
※ Available to nonresidents weekdays 9:00 AM - 4:30 PM
  Residents can purchase during weekend hours.
Quantity
Edition of 25,000
Availability
・City Hall 1f Citizen's Dept.
・Hirao branch office
・Wakabadai branch office
Kunio Ogawara exhibition
Dates
January 21st - February 26th, 2012
Venue
Inagi City Plaza
(Tokyo-to Inagi-shi Wakabadai 2-5-2)
Support
Tama TV
Tama New Town Times
For more details, visit the
Inagi City website
.
Le date riferite ai prodotti e ai servizi elencati saranno programmate in Giappone.
La programmazione varia in base ai distretti. Si prega di controllare i dettagli sul nostro sito ufficiale o presso il negozio più vicino.
Abilita i cookie per visualizzare gli articoli raccomandati