29º agosto 2012
Namco Bandai Games Official Facebook / Gundam Perfect Facebook celebrate their 1st anniversary!
Like now, win prizes!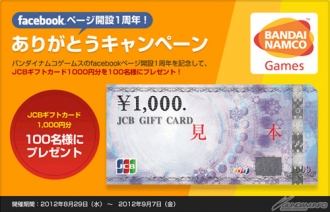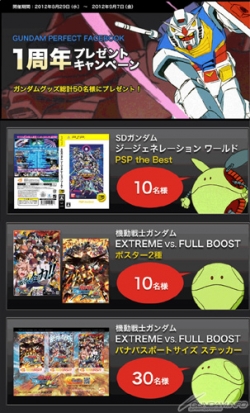 The Gundam Perfect Mobile and Namco Bandai Games Facebook pages managed by Namco Bandai Games celebrate their first anniversary from 8/29 to 9/7!
Just like either profile between 8/29 and 9/7, and you could win one of 150 amazing prizes!
100 winners will be chosen from the Namco Bandai Games page, and 50 from Gundam Perfect.
You could win a JCB gift card, a Mobile Suit Gundam Extreme Vs.Full Boost poster, or more!
* Images from development version.
* Details valid as of posting. Details may change without notice.
Abilita i cookie per visualizzare gli articoli raccomandati