25º dicembre 2014
Gundam Cafe Akihabara adds the winner of the Gundam Recipe Contest to its menu for a limited time only!
Warm up this winter with a "Warm Haro and Gundam Simmered Udon"!

Gundam Café, located in Akihabara, Tokyo, adds the winner of its Gundam Recipe Contest held in collaboration with Ichiban-Kuji to its menu beginning December 26th!
First to join the menu is "*gakko*"'s "Warm Haro and Gundam Simmered Udon: Rib Roast and Udon Sukiyaki". Sweet and spicy broth combines with Japanese-style rib roast, bok choy, chrysanthemum, udon, and more, served in a stoneware bowl with coloring reminiscent of the Gundam's plunge through the atmosphere.
Available through January 31st, 2015, this exclusive dish is a perfect way to take off the winter chill.
Gundam Café & Ichiban-Kuji
"Gundam Recipe Contest: Create a new Gundam Café Menu!"
Grand prize winner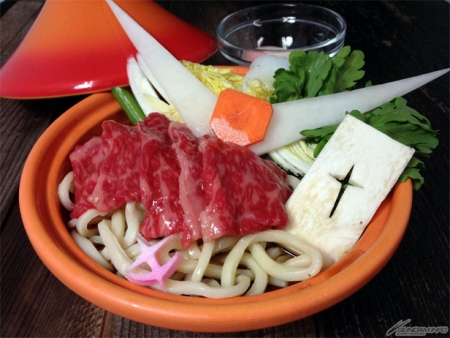 [Name]
"Warm Haro and Gundam Simmered Udon: Rib Roast and Udon Sukiyaki"
[Price]
¥1,100 (tax not included)
[Dates]
Decemebr 26th, 2014–January 31st, 2015
[Location]
Gundam Café Akihabara

[*gakko*'s comment
]
A nice warm udon (*´ω`*)
I thought it would be the perfect way to stay warm and keep your metabolism ticking along during the chilly winter (。・ω・。)ノ
Relax with some homestyle cooking at Gundam Café (*´ω`*)
It's got plenty of beefy... well, beef for the guys.
The spinach, leek, and egg yolk are nutritious, too.
Maybe some crab stick printed with the Gundam Café logo too? (*´ω`*)
It would be absolutely perfect in the Acguy stoneware that wan an Ichuibun-Kuji prize, but unfortunately, I didn't win.
Hope you enjoy! m(_ _)m
Gundam Café Akihabara
[Address] 1-1 Kanda-Hanaoka-cho, Chiyoda-ku, Tokyo
[Access] By foot: 1 minute from JR Akihabara Station, 2 minutes from Tsukuba EXP Akihabara Station, 3 minutes from Metro Shinjuku Line Iwamoto-cho
[Hours] 10:00 AM - 11:30 PM
        Lunch: Open–5:00 PM / Dinner 5:00 PM–close / Takeout 11:30 AM–7:30 PM
* Closed New Year's Day.
* Alternate hours December 31st, 2014 and January 2nd–3rd, 2015. See site for details.
Abilita i cookie per visualizzare gli articoli raccomandati