27º dicembre 2012
Win a panel or a shikishi! The Hideki Owada Winter Manga Fest begins!
Buy books by Hideki Owada, author of Mobile Suit Gundam-san, to win!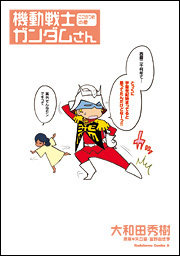 The Hideki Owada Winter Manga Fest campaign, celebrating the December release of four volumes (including Mobile Suit Gundam-san Nine) by Hideki Owada, has begun!
Just send in a proof of purchase included with select Hideki Owada books from Kadokawa Shoten, Akita Shoten, or Takeshobo, and indicate which prize you'd like to enter the drawing for: A panel personally illustrated by Hideki Owada or a signed shikishi!
Entries must be postmarked by March 31st, 2012.
■ Prizes
Prize A … Panel illustrated by Hideki Owada (3 winners)
Prize B … Signed shikishi (10 winners)
■ Qualifying books:
・ Mobile Suit Gundam-san (1-9)
* Or the three Kotowaza Series volumes
・ Ryujin Mabuyer (1)
・ Mudazumo Naki Kaikaku (1-9) (Takeshobo)
・ Lovely Curie (Akita Shoten)
For more info, visit the webKADOKAWA
Fair/Event page
!
Abilita i cookie per visualizzare gli articoli raccomandati