24º gennaio 2017
The "Hobby Japan March 2017 Issue" now on sale!
"Rogue One" is the opening feature! And an introduction of products to pick up from Iron-Blooded Orphans and the "MG FULL ARMOR GUNDAM (GUNDAM THUNDERBOLT ARC)!"



Hobby Japan March 2017
On sale January 25, 2017 (Wed)
Price: 900 yen (tax excluded)
<Opening Features>
Rogue One: A Star Wars Story
With an unparalleled speed, even within the long history of the series, STAR WARS has returned to the movie screen only 1 year after the release of STAR WARS: THE FORCE AWAKENS! Rogue One: A Star Wars Story is the first movie in a series of "another stories" that tell of unknown tales related to STAR WARS EPISODE IV A NEW HOPE. It has already been over 1 month since its premiere and most people have enjoyed the movie. Didn't seeing Jyn Erso's "Rogue One" team challenge their difficult mission and Director Gareth Edwards' direction overflowing with love for the STAR WARS series warm your heart in numerous ways? This month's opening feature is a feature on STAR WARS, 1 year since its last feature, as a gift to those who enjoy the series! If you have seen the movie and would like to obtain the fascinating characters and vehicles found in the movie, please look forward to the Bandai Plastic Kit series model review.
<Feature 2>
The New Year HJ Scale Model Festival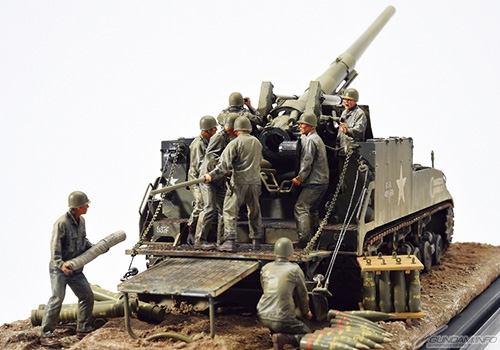 "The HJ New Year Scale Model Festival's" first scale feature for 2017 includes a selection of 3 products released by Tamiya last year. These products are the large 1:35 kit "U.S. Self-Propelled 155mm Gun M40 Big Shot," the 1:24 "NSX," and the 1:12 "Kawasaki Ninja." Hobby Japan will present a thorough model review by the magazine's elite modelers.
The first review will be a thorough review of the M40 Big Shot by Takuji Yamada. Takuji Yamada will make refinements to the fine parts of the kit and is a relatively straightforward setup. He will introduce how to make the M40 with his main point being his black and white painting technique which has become an established custom since he worked on the M10.
<Pick Up>
『Mobile Suit Gundam Iron Blooded Orphans』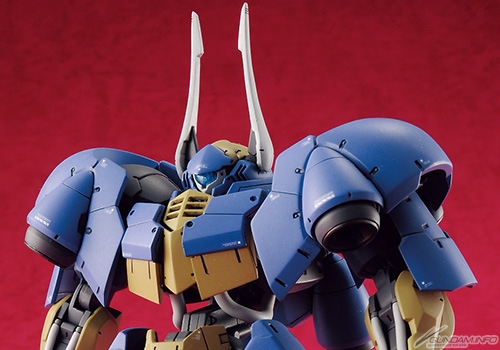 Tekkadan repels the mobile armor Hashmal, a relic of the Calamity War, but a dark cloud hangs over the situation surrounding them in Mobile Suit Gundam Iron-Blooded Orphans. This month, HG "Helmwige Linker" and HG "HEKIJA," both now on sale in January, will be thoroughly introduced through a model kit review. The review will be enhanced further with a variety of expansive reviews such as on the Premium Bandai product HG "IO FRAME SHIDEN CUSTOM (RYUSEI-GO)" and will use existing kits like "Geirail Scharfrichter" and "Graze (Arianrhod Fleet Suit)." Original model reviews are also included. The white "Gundam Flauros," a Calamity War figure, will also be made. This feature's giant-sized pages will also include the latest information on the anime and plastic kits where "GUNDAM BARBATOS LUPUS REX" and "REGINLAZE JULIA" will be revealed at last.
<Pick Up>
Gunpla LOVE FA-78 FULL ARMOR GUNDAM (GUNDAM THUNDERBOLT ARC) [Bandai 1:100]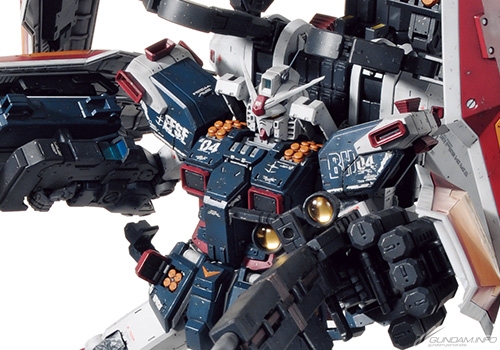 Gunpla LOVE is a wild well-known Gundam model review corner found in each issue. This issue will be a special concentrated on the "FA-78 FULL ARMOR GUNDAM" from Mobile Suit Gundam Thunderbolt.
Let's go into Naoki Kimura's, the "meister," original method in his model review. He has refined the details of the model so that it has an elaborate impression from its head antenna base to the 6-missile pod backpack on the premise that it is super heavily equipped in its Full Armor form with its hyper bazooka gun and beam rifle, both with which come included in its weapon and armor hangar. It is complete as a creation full of charming points which include the casual adjustments made to the circumference of its proportions and the damage weathering to each of its parts. (This model is an original made by the modeler and is different from the model officially distributed by Sunrise. Please be understanding of this matter.)
<Magazine Mail Order>
Fate/Grand Order
Rider/Astolfo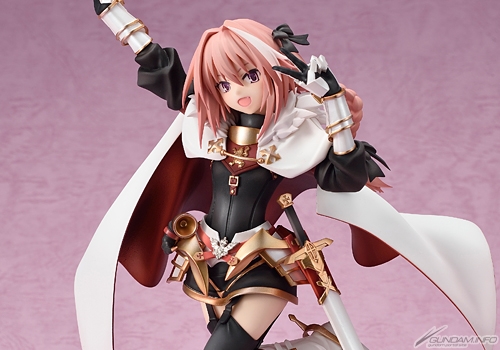 he long-awaited Astolfo the naïve rider figurine from the popular smartphone RPG series Fate/Grand Order is here! Her right arm is raised while her left hand is in a cute peace sign making for a completely adorable pose!
She has been faithfully recreated from her cute waist circumference, armor, mantle, the fine ornaments and textures of her sword, to her charming fang-like canine teeth. She is smoothly manufactured and recreated with the soft fair skin of a young maiden (?) that makes you want to lightly pat her thighs. Please look forward to enjoying Astolfo's cuteness to your heart's content.
<Magazine Mail Order>
Sword & Wizards
Fuyuka Yukishiro -Bunny ver.-
"Fuyuka Yukishiro -Bunny ver.-" will be released as the latest product in the Sword & Wizards figure series! You can freely enjoy Yukishiro's adorable bottom while she's dressed in a super sexy outfit and is a figure for all the gentlemen.
This product is a pair with "Felicia -Bunny ver.-" sold by Kotobukiya and were made to be able to replicate scenes in the illustrations when the two figures are brought together. Definitely collect these two figures and look forward to the fascinating situations you can bring about with them.
<Gundam>
・ V08Re-0526 Helmwige Linker [Bandai 1:144] by Matsuooji (firstAge)
・STH-20 HEKIJA [Bandai 1:144] by Hiroshi Sarai (firstAge)
・STH-16/tc Shiden Custom (Ryusei-Go) [Bandai 1:144] by GAA (firstAge)
・EB-04jc4 Geirail Scharfrichter [Bandai 1:144] by yubaba
・EB-06 Graze (Arianrhod Fleet Suit) [Bandai 1:144] by Hiroyuki Noda
・ You can do it too!! How to make Iron-Blooded Gunpla "HG Gundam Flauros Edition"
・ Gunpla LOVE Graze Taurus [Bandai 1:144] by Akira Sakai
・ Mobile Suit Gundam Iron-Blooded Orphans Information
・ Gundam Build Fighters Honoo Try SP05 "The Decisive Battle of Fire and Ice" by Tomohiro Chiba (Studio Orphee)
・GSX-40100 LUNAGAZER GUNDAM [Bandai 1:144] by Kazuhiko Aikawa
・ Super Fumina Ver. Titans Maid [Bandai 1:144] by DAISAN
・ Pucchiban [Bandai 1:144] by Akira Sakai
・GN-0000/7S 00 GUNDAM SEVEN SWORD [Bandai 1:144] by Keisuke Watanabe
・RGM-79SP GM SNIPER II [Bandai 1:100] by kobopanda
・RGM-79[G] GM Ground Type [Bandai 1:144] by Hiroshi Sarai
・RCX-76-01 GUNCANNON Mobility Test Type / Firepower Test Type [Bandai 1:144] by Tadano☆Kei
・AMX-107R REBAWOO [Bandai 1:100] by Nozomu Nakai
・FA-93 HWS v GUNDAM [HEAVY WEAPON SYSTEM TYPE] [Bandai 1:100] by JUNIII
・ Gunpla LOVE FA-78 FULL ARMOR GUNDAM (GUNDAM THUNDERBOLT ARC) [Bandai 1:144] by Seira Masuo
・Mobile Suit Gundam Thunderbolt Information
・ SD GUNDAM Retsuden Knight Amuro [Bandai] by Ryo Matsuda
・GUNPLA NEW KIT REVIEW
・Gachapon FUN [Bandai]
・GUNDAM EXPRESS
・GUNDAM FIX FIGURATION
・Shokugan FREAK! FW SD GUNDAM NEO [Bandai]
・Make it in 2 minutes! Gundam Directory with Gum 2 [Bandai]
<Special Pinup>
・FA-78 FULL ARMOR GUNDAM (GUNDAN THUNDERBOLT ARC) by Naoki Kimura
・Ka signature "MSK-008 DIJEH" by Hajime Katoki

©&™Lucasfilm Ltd
© Sotsu ・ Sunrise ・ MBS
© Sotsu ・ Sunrise
© TYPE-MOON / FGO PROJECT
© Yusura Kankitsu ・Niθ/HOBBY JAPAN
Abilita i cookie per visualizzare gli articoli raccomandati