24º novembre 2017
"Monthly Gundam Ace 2018 January" released today!
A new Gundam appears on the cover from 'Walpurgis'! The special appendix is "Gundam 00 10th Anniversary Calendar 2018"!
Monthly Gundam Ace January 2018 Issue
Released November 25 2017
Special List Price:700 yen(tax included)
■ That neo · Jion's most important character appeared! "Mobile Suit Zero MOON Gundam"
Story: Harukoshi Fukui, manga: Takaya Takayuki, mechanic design: Ippei Shape
Topical boiling "MOON Gundam" The third episode of angry waves! Suddenly glowing Gundam ... Is it a sign of something? What?
■ Color appearance of the shocking scene! "Mobile Suit Gundam Walpurgis"
Manga: Kyushu Hiyon, Screenplay: Marine Winter Rage
First public release! What is the identity of the new Gundam! ! "Dimater" VS "ZII (Zetsu)" The fight of two MSs will tick at the time of fate!
■ Volume color 17P! "Mobile Suit Gundam SEED ASTRAY Princess of the Sky"
Manga: Kureichi Tokita, Scenario: Tomohiro Chiba (Studio Orphe)
Successor decision! Pure white 'heaven (Amatsu)' entrusted to the princess!
■ New challenge! Center color! "Mobile Suit VS Crossbone Gundam DUST"
Manga: Hasegawa Yuichi, original work: Hajime Yaiti, Yoshiyuki Tomino, design cooperation: Shinichi Miyazaki
Just use each other - but the place to aim for the same is the same. The first giant (Cucropus) and the ghost (Phantom) go to their hearts with their ambitions and ideals!
■ Finally the last round! "Mobile Suit Gundam W Endless Waltz Glory of Losers"
Manga: Ogasawara Satoshi, Scenario: Katsuyuki Sumizawa
Can you prevent the fall of the Ribra! What is this? A blow to victory!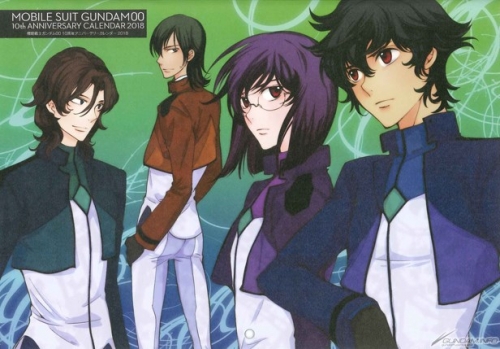 ▲ Special Appendix "Gundam 00 10th Anniversary Calendar 2018"!
Abilita i cookie per visualizzare gli articoli raccomandati