4º giugno 2020
Il rilascio di "Mobile Suit Gundam Hathaway" viene rinviato
Ti faremo conoscere la data di uscita internazionale sul sito ufficiale e attraverso i social media ufficiali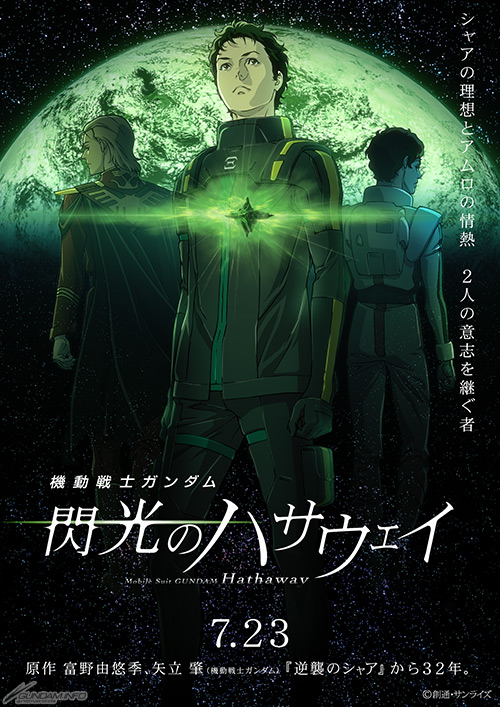 Grazie per il vostro supporto continuo.

"Mobile Suit Gundam Hathaway" è stato programmato per essere rilasciato il 23 luglio, 2020 (giovedì e vacanze) in Giappone.Secondo le attuali circostanze del romanzo focolai coronavirus, tuttavia, abbiamo deciso di rinviare il suo rilascio.

A tutti voi che siete in attesa dell'apertura del film, un commento è arrivato da Sunrise Inc., il pianificatore e produttore di questo lungometraggio.

To everyone, from SUNRISE INC.

First of all, we express our deepest sympathies for all those affected by the novel coronavirus (COVID-19) outbreaks.

Even though we've been proceeding with the preparations as "Mobile Suit Gundam Hathaway" was scheduled to be released on July 23rd, 2020 (Thursday and holiday), we've decided to postpone our launching of the movie due to the novel coronavirus outbreaks in Japan. We offer our heartfelt apologies to all of you who are looking forward to the release of the film.

As soon as the new release date is determined, we will announce it at the official website of "Mobile Suit Gundam Hathaway" as well as through all the official social media.

Again we sincerely apologize that we have to inform you of this postponement even though we've been doing our best to release the movie on schedule. All of our staff will continue to make every effort to create an even better work, as we're hoping the release of such movie is going to encourage all of our fans.

We would appreciate it if you could continue to support us.

June 4th, 2020

SUNRISE INC.

Ti faremo conoscere la data di uscita internazionale sul sito ufficiale e attraverso i social media ufficiali.


Mobile Suit Gundam Hathaway

【STORY】
—Do you know the Nejen?
If you know it, then I'll take you there—

The year is U.C. 0105. Twelve years have passed since the end of the second Neo Zeon War (Char's Rebellion). Even after "the Axis Shock," which seemed to indicate the future of humanity and the Universal Century, the world is still in a chaotic situation where intermittent military conflicts continue to break out. The Earth Federation government is more corrupt than ever, and its leadership has not only accelerated Earth's pollution, but also implemented an inhuman "Man Hunting" policy in which civilians are forcibly exiled to outer space.

The anti-Federation government organization "Mafty," led by someone called "Mafty Navue Erin," has taken a stand against the corruption of the Earth Sphere. Mafty carries out fierce acts of terrorism, assassinating high officials of the Federation government one after another, but it gains a certain level of support from the populace who are growing more opposed to the Federation government.

The person who calls himself "Mafty" and leads this organization is Hathaway Noa, the son of Bright Noa, an officer of the Earth Federation Forces who once participated in the One Year War. Hathaway himself joined the forces trying to stop Char's Rebellion. With firsthand knowledge of the ideals and ideologies of Amuro Ray and Char Aznable, he has become a warrior following in their footsteps, and plans to clear a path forward through armed resistance. His destiny, however, is drastically altered as he encounters the Federation Forces officer Kenneth Sleg and a mysterious young beauty named Gigi Andalucia.
Le date riferite ai prodotti e ai servizi elencati saranno programmate in Giappone.
La programmazione varia in base ai distretti. Si prega di controllare i dettagli sul nostro sito ufficiale o presso il negozio più vicino.
Abilita i cookie per visualizzare gli articoli raccomandati