12º novembre 2020
Will Wukong Impulse Gundam porterà pace o una catastrofe? SD GUNDAM eroi mondiali inizia nel 2021 aprile!
Un teaser e kit GUNPLA sono stati rivelati!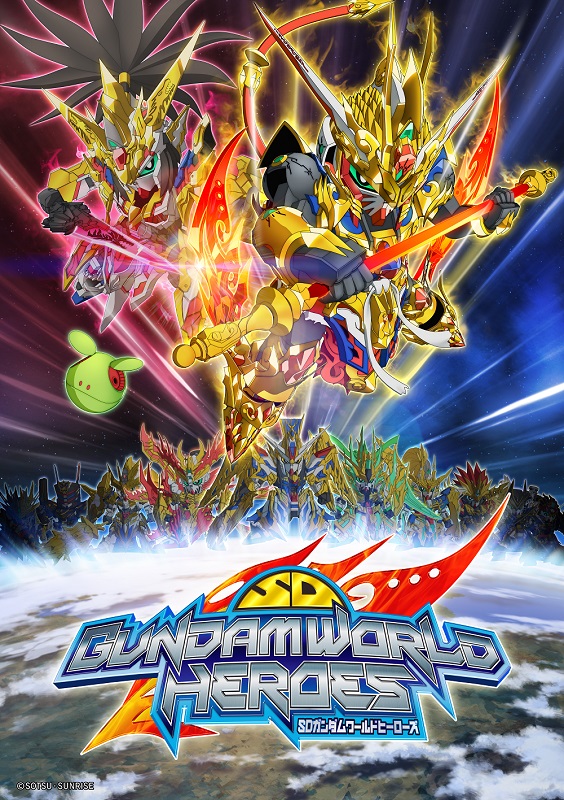 SD GUNDAM EROI DEL MONDO, l'ultima rata delSD GUNDAM MONDOserie, inizierà globalmente rilasciando dal 2021 aprile.

Questo è un nuovo titolo appartenente allaSD GUNDAM MONDOserie, iniziata nel 2019, e sarà caratterizzato da Liu Bei Unicorn Gundam daSD GUNDAM mondo Sangoku Soketsudencosì come i nuovi Gundams come Wukong Impulse Gundam, Nobunaga Gundam Epyon, e il sergente verde Buster Gundam.
Questa serie inizierà lo streaming dal 2021 aprile su GUNDAM.INFO.

Il suo sito ufficiale ha aperto oggi giovedì 12 novembre, e un teaser, lista dei personaggi, e kit GUNPLA sono stati rivelati per la prima volta.

Un teaser ricco di scene mozzafiato è qui!
Ora inizia una nuova storia di eroi!La storia e la lista del personale è stato rivelato!
【Story】
The balance of the worlds is maintained by heroes.
Suddenly a red-hot meteor falls upon one of these worlds, called Neo World.
An amnesiac youth named Wukong Impulse Gundam appears at the point where it landed.
The chaos that starts with this incident spreads through the other worlds, one after another.
At the same time, Zhuge Liang Freedom Gundam learns via astrology of an impending disaster.
He and his sworn friend Liu Bei Unicorn Gundam take action to save the worlds from this crisis,
and begin a journey along with Wukong.
What will Wukong Impulse Gundam think as he meets the heroes of each world?
Will this youth bring about peace or catastrophe?
Now begins a new story of heroes!
【Staff】
DIRECTOR:Takahiro Ikezoe
STORY STRUCTURE:Toko Machida
SD DESIGN:Toshinao Miyauchi
CG DIRECTOR:Ryo Sasaki
ART DIRECTOR:Yuji Kaneko
SOUND DIRECTOR:Sadayoshi Fujino
Un'introduzione a cinque personaggi, tra cui Wukong Impulse Gundam!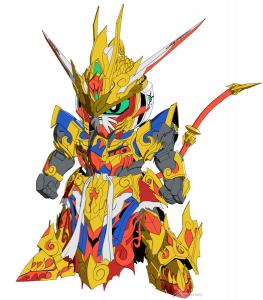 ■ Wukong Impulse Gundam
The youth at the center of the story.
hough he lost his memory due to a certain incident, after he meets Liu Bei's group and embarks on a journey, his memory returns little by little.
He normally expresses little emotion, but jumps in when he is interested in something.
When his anger rises, he turns into a giant monkey, loses his senses, and runs amok.
A harsh fate awaits him, but he faces it supported by the bonds of friendship.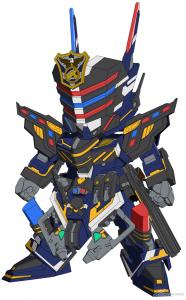 ■Sergeant Verde Buster Gundam
A police special forces commander.
He is cool and calm when dealing with trouble, and every day he keeps the peace in Captain City.
Sergeant has weapons that only a special forces commander is permitted to use, and and carries them when handling dangerous criminals.
He is knowledgeable and helpful, and when he meets Zhao Yun in the city, he becomes concerned about him.Though he has been pursuing a phantom thief for many years, his quarry always escapes, one step ahead of him.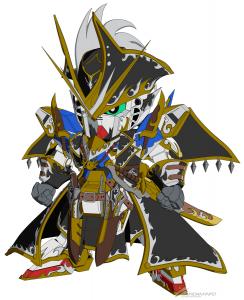 ■Benjamin V2 Gundam
A pirate captain who is widely known in Pirate World.
With a bold and heroic character, he overcomes most problems with his force of personality.
He is an old acquaintance of Sun Jian, and they consider themselves best friends due to their similar personalities.He has a unique way of laughing.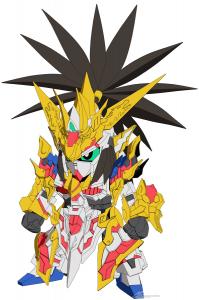 ■ Liu Bei Unicorn Gundam
The young leader of "Dragon's Watch," a militia group in the Shu Area, and one of the heroes who previously saved Kingdom World from a crisis.
Though he is filled with a sense of justice, in some respects he still seems like a restless youth.
From previous generations he has inherited a "Haro" that has mysterious powers.Thanks to his meeting with Wukong Impulse Gundam, he throws himself into battle, with the fates of worlds at stake.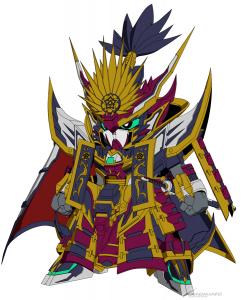 ■Nobunaga Gundam Epyon
An epic character who seeks to conquer Musha World with his own hands.
He plans to eventually unite all the other worlds as well.
For this reason, he has gathered excellent subordinates in various places, and has his eye on the traveling Cao Cao as well.
Though he has absolute belief in his own strength, someone will entice him to obtain further power and become tainted by a wicked heart.
I kit GUNPLA saranno rilasciati insieme alla serie animata nel 2021 aprile!
Wukong Gundam(tentative)
Prezzo: 600 yen (tasse escluse)
Data di uscita: aprile.2021
Fascia d'età: 8 + anni
Nobunaga Gundam(tentative)
Prezzo: 700 yen (tasse escluse)
Data di uscita: aprile.2021
Fascia d'età: 8 + anni
Sargent Gundam(tentative)
Prezzo: 600 yen (tasse escluse)
Data di uscita: aprile.2021
Fascia d'età: 8 + anni
Benjamin Gundam(tentative)
Prezzo: TBD
Data di rilascio: Spring. 2021
Fascia d'età: 8 + anni
SD GUNDAM WORLD HEROES New Item A
Prezzo: TBD
Data di rilascio: Spring. 2021
Fascia d'età: 8 + anni
Le date riferite ai prodotti e ai servizi elencati saranno programmate in Giappone.
La programmazione varia in base ai distretti. Si prega di controllare i dettagli sul nostro sito ufficiale o presso il negozio più vicino.
Abilita i cookie per visualizzare gli articoli raccomandati