30º marzo 2014
Get a sneak peek at Gundam Build Fighters episode 25! Airs tonight at 6!
The finale arrives! In episode 25, Sei and Reiji team up with their former rivals!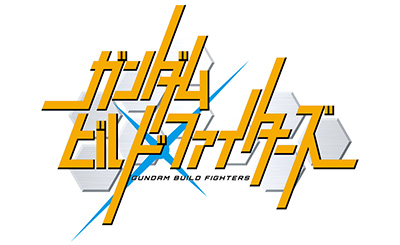 The newest Gundam TV series,
Gundam Build Fighters
, airs on TV Tokyo and five affiliates Mondays at 6 PM. Here's your sneak peek at the finale,
episode 25
, which airs
March 31st
!
Episode 25 (Finale)

The final match of the Gunpla Battle Championship is decided after a fierce fight. However, its effects overload the Plavsky particle crystal, and it begins to materialize the particles spread around the tournament venue.
The spectators, panicked, try to flee. There's only one way to stop this disaster: destroy the crystal itself! Following Nils' advice, Sei and Reiji, Mao and Fellini, China, and Aila all deploy their Gunpla, only to be beaten back by the crystal's forces.
But they're not alone. Not just their rivals, but even Mr. Ral, Takeshi, and Master Chinan—old Gunpla Fighter greats—are there to back them up!
Let's go for it! This is a Gunpla-style Last Shooting!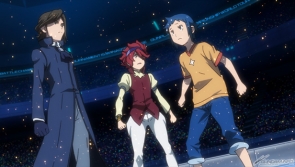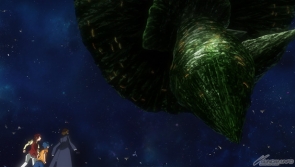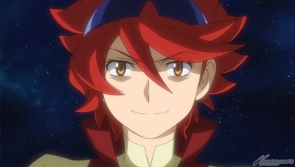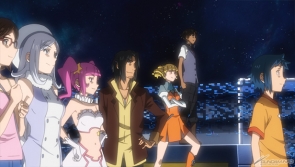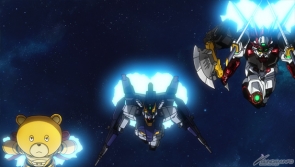 Don't miss it, tonight at 6 PM!
Gundam Build Fighters
is set in the near future, some time after the huge "Gunpla"—plastic models based on the anime series
Mobile Suit Gundam
—boom. It stars Sei Iori, a talented Gunpla builder, and Reiji, a mysterious boy with incredible Gunpla piloting skills.
Sei, the Gunpla Builder. Reiji, the Gunpla Fighter. Their dream is to make it to the Gunpla Battle World Championship... and win!
■ Broadcast details
[TV Tokyo/TV Osaka/TV Aichi/TV Setouchi/TV Hokkaido/TVQ Kyushu]
Mondays at 6 PM beginning 10/7

[BS11]
Sundays at 7 PM beginning 10/13

[AT-X]
Wednesdays at 10 PM beginning 10/9
Fridays at 10 AM beginning 10/11
Mondays at 4 AM beginning 10/14
Tuesdays at 4 PM beginning 10/15

[Anime official site/TV Tokyo official site/Bandai Channel]
Streaming the latest episode free for a week Mondays at 9 PM beginning 10/7

■ Staff
Planning .................................... Sunrise
Based on a story by .................... Hajime Yatate and Yoshiyuki Tomino
Director ..................................... Kenji Nagasaki
Screenwriter .............................. Yosuke Kuroda
Character designer ...................... Kenichi Ohnuki
Character design assistance ......... Suzuhito Yasuda
Mechanical design ....................... Kunio Okawara, Junichi Akutsu, Junya Ishigaki, Kanetake Ebikawa, Kenji Teraoka
Music ....................................... Yuki Hayashi
Planning assistance ..................... Bandai Hobby Division
Production assistance .................. ADK
Produced by .............................. TV Tokyo, Sunrise, Sotsu

■ Cast
Sei Iori ....................................... Mikako Komatsu
Reiji ........................................... Sachi Kokuryu
China Kousaka ...........................… Yui Ishikawa
Meijin Kawaguchi (Tatsuya Yuuki) .... Takuya Sato
Ricardo Fellini .............................. Yuichi Nakamura
Mao Yasaka ................................ Minami Fujii
Rinko Iori .................................... Kotono Mitsuishi
Takeshi Iori ................................. Tokuyoshi Kawashima
Mr. Ral ....................................... Masashi Hirose
Susumu Sazaki ........................... Ryo Hirohashi
Kirara ........................................ Aoi Yuki
Allan Adams ................................ Subaru Kimura
Aila Jyrkiäinen ............................. Saori Hayami
Nine Barthes .............................. Daichi Endo
Nils Nielsen ................................ Shinnosuke Tachibana
Renato brothers .......................... Yuji Ueda
Luang Dallara .............................. Takuya Eguchi
Rainer Cziommer .......................... Nobutoshi Kanna
Chairman Mashita ........................ Tetsuo Sakaguchi
Baker ........................................ Natsuki
Abilita i cookie per visualizzare gli articoli raccomandati