26º dicembre 2014
Details on the theatrical and BVC-exclusive Gundam The Origin Blu-ray Disc Collector's Edition are here!
The box and jacket are both newly illustrated by Yoshikazu Yasuhiko!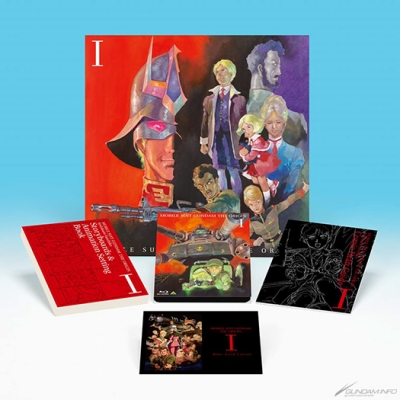 Details on the exclusive
Mobile Suit Gundam The Origin I
Blu-ray Disc Collector's Edition, available beginning February 28th, 2015 at 13 theaters across Japan as well as from Bandai Visual Club, have been announced.
Both jacket and box art are provided by Yoshikazu Yasuhiko, chief director of the film and author of the original comics. Each illustration is brand-new for this release.
The Collector's Edition also includes nearly 250 pages of Yoshikazu Yasuhiko's storyboards, setting art, and manuscripts, spread across commentary and repro art booklets.
This exclusive Blu-ray release will make its first appearance in limited quantities at theaters on February 28th. Preorders for a Bandai Visual Club release on April 24th are also open. Each set is priced at ¥10,000.
Also releasing on April 24th are a value-priced Blu-ray edition (¥7,344) and a DVD version (¥6,264).
In additional
The Origin
Blu-ray news, orders are open for a special "Reserved Ticket w/Loppi Exclusive Merchandise".
This ticket is bundled with an exclusive making-of Blu-ray featuring an interview with Yoshikazu Yasuhiko. Don't miss this must-have release!
■
Mobile Suit Gundam The Origin Blu-ray and DVD releases



Reserved Ticket w/Loppi Exclusive Merchandise
Merchandise available
February 12th, 2015
Price
¥5,000
Contents
- Making-of Blu-ray
- Exclusive sleeve
- Exclusive illustration card
Order before
February 3rd, 2015
Participating retailers
Loppi counters at Lawson Ministop locations nationwide
Details
L-Tike.com




Exclusive Blu-ray Collector's Edition
Date
Friday, April 24th, 2015
* Limited quantities available at theatrical showings beginning February 28th, 2015
Price
¥10,000
Contents
- Blu-ray
- Decorative box
- Storyboard and setting art collection
- Commentary booklet with comic manuscripts
- Jacket with exclusive art
- Staff and cast audio commentary
- Booklet
Order before
March 23rd, 2015
Participating retailers
Theaters, Bandai Visual Club exclusive
Details
Bandai Visual Club




Standard Edition Blu-ray
Date
April 24th, 2015
Price
¥7,344
Contents
- Blu-ray
- Commentary booklet with comic manuscripts
- Jacket with exclusive art
- Staff and cast audio commentary
- Booklet
Participating retailers
Standard availablity
Details
Bandai Visual




Standard Edition DVD
Date
April 24th, 2015
Price
¥6,246
Contents
- DVD
- Booklet
Participating retailers
Standard availablity
Details
Bandai Visual
Abilita i cookie per visualizzare gli articoli raccomandati