31º gennaio 2016
V-Storage Online's Iron-Blooded Station updates with a new Ura-Tetsu Radio! podcast!
New looks at mobile suits and characters, too!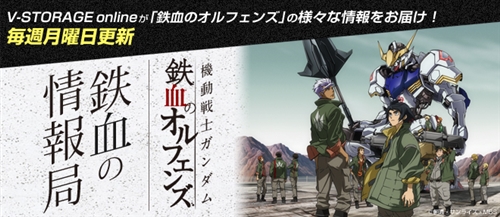 Bandai Visual's V-Storage Online site updates its
Mobile Suit Gundam: Iron-Blooded Orphans
coverage with a second "Ura-Tetsu Radio!" podcast!
Ura-Tetsu Radio! features include more of the best fanmail sent in to the "Tekkadan Hosokyoku" program hosted by Yuka Terasaki.
Also featured on the site are info and analysis on mechanical details, character and setting backstory, and more, so check it out!
▼
V-Storage Online|Iron-Blooded Station
http://v-storage.bandaivisual.co.jp/orphans/
Le date riferite ai prodotti e ai servizi elencati saranno programmate in Giappone.
La programmazione varia in base ai distretti. Si prega di controllare i dettagli sul nostro sito ufficiale o presso il negozio più vicino.
Abilita i cookie per visualizzare gli articoli raccomandati