"What is 'Gundam', anyway?" This simple (?) question is answered in our fortyeighth casual weekly column just for new fans!
by Ema Baba
 By land or by sea, it's a super-simple intro column for new Gundam fans! We're back with Part 48 of what makes Gundam Gundam.
 You can see our previous coverage of what makes Gundam Gundam
here
, and this week we're back with another Gundam standard!
 What's one other thing that makes Gundam Gundam? That's right!  The answer's obvious to those who have them: little sisters! (← But what about little brothers?)
 In part 48, we bring you "Little Sisters of Gundam" (Part 2)!
●●●
Gundam's non-Universal Century little sisters are firm pacifists... and chic super hackers?!
 Little sisters absolutely have to be cute. And determination is a requirement as well. That's the conclusion we came to last time, and this column's examples definitely live up to it!
■ Relena Dorian (New Mobile Report Gundam Wing)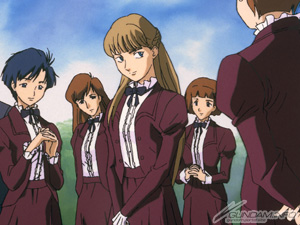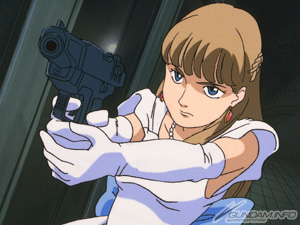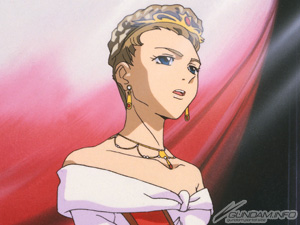 First is Relena Dorian, age 15. Of Scandinavian descent, and possessed of an inner maturity (?) which matches her cuteness, she's the lone daughter of United Earth Sphere Alliance Undersecretary of State Dorian (← and, of course, has a certain big brother.)
  Her beauty is matched by her brains, but when this ideal young lady discovers Heero Yuy (← the protagonist) collapsed on a beach, the gears of fate begin to turn... (imagine crashing waves here)
 Anyway, to make a long story short, at first they seem to get along almost too well, but the next day, after Heero transfers to her school, things go wrong, with him tearing up an invitation to her birthday party while announcing that he'll kill her. (← Hello, officer?) Relena is too prim and proper to do anything but freeze in confusion. However—and this is an important point of her personality—Relena isn't just a strong-willed (← some would say bullheaded) girl, and she's also able to extend a little sympathy to strange boys who dress in tank tops year-round. (Heero, on the other hand...)
  Plus, she isn't just a young heiress; she's also the blood sister of Zechs Merquise (true name: Milliardo Peacecraft), a decorated soldier in the OZ secret society which lurks in the UESA's shadows, and at the same time she's also Princess Relena Peacecraft of Sanc Kingdom, a country crushed by the UESA due to its absolute pacifism. (← those waves again)  Complex, isn't it?
 Her propriety and charisma gain her the eye of Duke Dermail, head of the Romefeller Foundation which controls OZ, and she's soon recruited as his spokeswoman, a position whose global prominence gives her the nickname "Queen Relena". (← Sounds like someone who'd be sending weekly monsters to earth...) From here on, she takes on more of a princess-like role than a sisterly one; realizing her own lack of direct power, she instead unilaterally declares the disarmament of OZ at a foundation meeting, as well as further maneuvering to limit Dermail's own political pull. (← Impressive!)
 However, before her goal of establishing absolute pacifism can be achieved, her brother Zech's "White Fang" anti-UESA faction rises in fierce opposition. (Stop being mean to your little sister, Zechs.)
 Relena's noble determination to seek her own path pursuing her father's dreams of peace between Earth and space, even in the face of armed opposition, make her an admirable little sister.
■ Meyrin Hawke (Mobile Suit Gundam SEED DESTINY)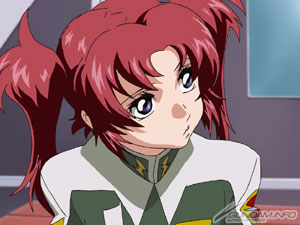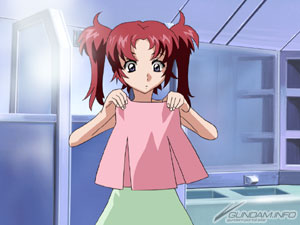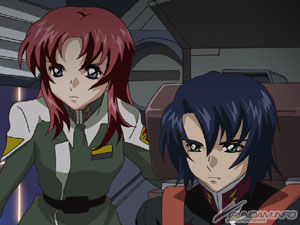 And next is Meyrin Hawke, age 16 and recognizable as a little sister (?!) by her twin pigtails. Meyrin sails aboard ZAFT's (the de-facto military of the Coordinator-governed PLANTs) warship
Minerva
, and is the sister of elite pilot Lunamaria Hawke. Wow  Two beautiful sisters!
 As well as controlling air traffic around the
Minerva
, she's a sort of ship's mascot (especially for her cute voice.) Her perky attitude in particular makes her an ideal little sister, but as a Coordinator (genetically-engineered transhuman,) she's prepared to do what she must (← like what, exactly?) when the situation calls.
 Her specialties include intelligence-gathering and hacking. See? She's a super hacker!
  Meyrin is a longtime friend of protagonist Kira Yamato, and while she secretly carries a torch for Athrun Zala, from his perspective she seems to be seen as nothing but Gunner ZAKU Warrior pilot Lunamaria Hawke's sister. (← How thoughtless!) Her hobby of looking him up online, as much of a super hacker as she may be, doesn't seem to have found her any paths into the mysterious (?) boy's heart.
 While she appears to get along well with her beautiful sister, passing downtime between missions by going shopping, she also seems to have a bit of a complex about measuring up to the buxom elite pilot in her red uniform. (← She's tried on her sister's uniform skirt. It didn't go well.)
On the other hand, isn't that adorable in its own way?
  And when Athrun is targeted by Chairman Durandal, she manages to hack into the military's central computer and set him free (← wow!), then, even while wounded, escape alongside him.
 I'm sure all of you big brothers out there appreciate just how well Meyrin combines the bubbly, cheerful attitude of a real girl her age with the modern confidence and independence suited to her role as a crewmember.
 And for now, that's all for our second look at the little sisters of Gundam!      
 Oh, isn't Gundam just so fascinating?
 Well, well, well, well, well, well, well, well, well, well, well, well, well, well, well, well, well, well, well, well, well, well, well, well, well, well, well, well, well, well, well, well, well, well, well, well, well, well, well, well, well, well, well, well, well, well, well, well, that's it for this week.
Next week we'll be taking another laid-back look at what makes Gundam Gundam!
[Author profile]
Ema Baba
Scriptwriter. Troublemaking scenarist.
Learning more every day to teach you about the fun of Gundam!
Abilita i cookie per visualizzare gli articoli raccomandati