"What is 'Gundam', anyway?" This simple (?) question is answered in our forty-fourth casual weekly column just for new fans!
by Ema Baba
A super-simple intro column for new Gundam fans bounces back over the table! We're back with Part 44 of what makes Gundam Gundam.
You can see our previous coverage of what makes Gundam Gundam
here
, and this week we're back with another Gundam standard!
Gundam has featured many teams of many sizes, but the ones who've made the biggest impact have been trios. From veteran mobile suit wings to bands and idols, trios are often as eye-catching as they are effective.
In part 44, we'll introduce you to the "Trios of Gundam (Part 2)"!
???
[Part 1]
Say the wrong thing to some Gundam trios, and they'll snap.
Last time we looked at the Prinicipality of Zeon's champions, the Black Tri-Stars, but this week we're traveling back in time (or at least character ages) to Mobile Suit Gundam's Extended trio of Sting, Auel, and Stella.
They're members of the Earth Alliance's "Phantom Pain" special forces unit, an irregular squad directed by the secret society Logos. Commanded by masked Earth Alliance Captain Neo Roanoke, the 81st Autonomous Mobile Group "Phantom Pain", which fields both traditional and "Biological CPU" pilots, carries out treaty violations and other black ops under the nominal control of the anti-PLANT (space colony) and anti-Coordinator (genetically modified human) organization Blue Cosmos.
■
Auel Neider (Mobile Suit Gundam SEED DESTINY)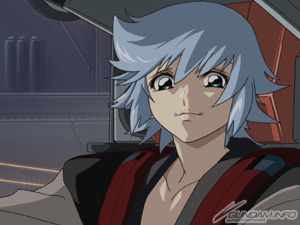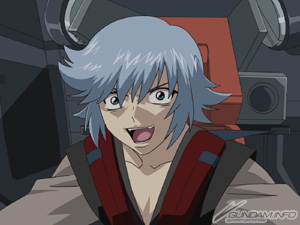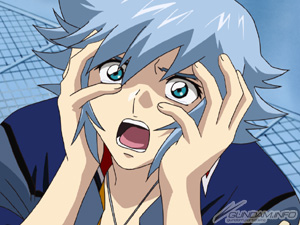 Auel Neider is a mobile suit pilot in the Earth Alliance's 81st Autonomous Mobile Group "Phantom Pain". Alongside his comrades Stella and Sting, who we'll get to later, he manages to infiltrate the new PLANT Armory One and successfully capture new second-generation mobile suits developed by ZAFT, the PLANTs' joint militia and de-facto government. Piloting the Abyss Gundam, one of these three suits, he shows the full combat potential of an Extended.
His unique fashion sense (←what even happened to that shirt?) and childish lack of discretion make him stand out as overaggressive outside the cockpit (←but more unthinking than actively malicious), but when he encounters an enemy his personality become vicious and intensely focused on the "game" of killing before he's killed (←kinda terrifying, really.)
The Extended, categorized as "Biological CPUs" rather than soldiers, were originally given the superhuman information processing ability to pilot mobile suits through heavy drugging, but further advancements have led to the use of hypnosis-style behavioral conditioning triggered by "block words".
Auel's is "mother". Memor