"What is 'Gundam', anyway?" This simple (?) question is answered in our twenty-ninth casual weekly column just for new fans!
by Ema Baba
 Is that a fin breaking the surface of the water? No, just a toothy but super-simple intro column for new Gundam fans! We're back with Part 29 of what makes Gundam Gundam.
  You can see our previous coverage of what makes Gundam Gundam
here
, and this week we're back with another Gundam standard!
 Something you really can't ignore about Gundam is the dialogue that just makes you want to try shouting it yourself.
Our 29th column is a fourth look at some of Gundam's famous lines!
●●●
[Part 1]
Gundam's famous lines are heartfelt!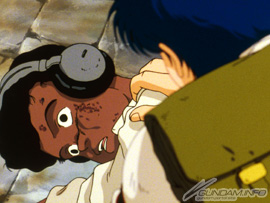 "No, but it's... But it's Arthur!" (Seabook Arno / Mobile Suit Gundam F91)
 Our first line is from Gundam F91 pilot Seabook Arno. (
Mobile Suit Gundam F91
)
  Seabook, a normal engineering student at Frontier Academy, has his easygoing academic life come to an end when the Frontier Academy's Thanksgiving Day festivities are interrupted with a raid by the Buch Concern's private Crossbone Vanguard militia. He is forced to escape from Frontier IV to Frontier I, where he takes shelter aboard the Federation training vessel
Space Ark
and encounters the mobile suit Gundam F91 (designed by his mother.)
 During the initial raid, Seabook's friend Arthur Jung, mounted on the skirt of a museum piece (!) Guntank R-44, is caught in an explosive blast and thrown against a wall. As Seabook tries to shake Arthur's limp form awake, another friend, George Azuma, softly tells him "Let'em rest in peace. He's gone.", prompting this unsteady, spontaneous response.
 Carefree Arthur losing his life so suddenly is a grim and striking reflection of a peaceful world being suddenly thrust into war.
  While
Mobile Suit Gundam F91
used no recurring characters, unlike its predecessor
Char's Counterattack
, this scene sets up the depth and somber tone early. A piercing line like this is hard to forget. Cruel fate slices through their ties.
 As a quote, it' would be best when things have gone too far, and nothing can help anymore... But it's probably a bad idea to moan it while shaking a drunk friend. You really won't like the results. If nothing else, it will make their hangover even worse. (← Warning: Really. Don't shake up your drunk friends.)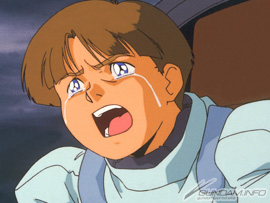 "Something's wrong with you, Katejina!" (Üso Ewin/Mobile Suit Victory Gundam)
 Next, we have a line from Üso Ewin of the "League Militaire" anti-Zanscare Empire resistance group. (Mobile Suit Victory Gundam episode 36 "Mother, Unto Dust Return*") (*
Victory Gundam
titles and dialogue WIP.)
 Üso shouts this when, while attempting to rescue his mother from the grasp of a mobile suit operated by the Zanscare Empire's BESPA unit, his former friend Katejina to interferes.
Later on, Üso's mother.... (well, this is probably THE anime spoiler, so I'm not gonna say it.)
 ………… He's right! Something IS wrong with Katejina! And she gets worse, and worse, until it's impossible to imagine her being normal anymore. The "cute girl" Üso was so impressed with, the penpal who he couldn't stop writing, spent a few episodes offscreen and came back as a woman who probably had to be toned down a lot for broadcast. (It's kind of scary.)
 Is this what war does to people? Üso definitely paid a very high price to learn the lesson that you can't judge women by their looks.
On the other hand, this is a great quote to let out when something isn't quite right!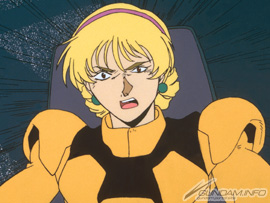 "He actually tried to kill me!? He's brushing me aside as easily as he did that trick..." (Katejina Roos / Mobile Suit Victory Gundam)
 And here we have Katejina Roos, an indispensible part of
Mobile Suit Victory Gundam
. (Mobile Suit Victory Gundam episode 49, "Above the Angel's Halo".
  Here's the moment you've been waiting for! Gundam's star yandere, Katejina, takes the stage! (... Is it a good idea to clap? Is it a good idea
not
to clap?) Üso's first crush is all grown up, fighting under the Zanscare Empire and attempting to force him into battle inside the Empire's gigantic Psycommu weapon with bizarre tactics like a bikini-clad close combat squad. Üso fights his way through a gauntlet of scantily-clad women. At the end, he reaches Katejina's mobile suit, and plunges a beam saber into it. Katejina murmurs this as she bails out of the cockpit.
 There may be other women in other Gundam series as scheming and devious as Katejina, but I wouldn't tell her that if I were you. Sending an entire squad of sexy ladies to entrance poor, naïve young Üso (← Who even thinks of sending women out into space in swimwear? Does Katejina have the mind of a creepy 50-year-old man?), pitting her lovers against one another, even trying for one last stab—literally—at Üso... Something's
really
wrong with you in the second half of this show, Katejina!
 Now, you'd think that there'd be some kind of karmic retribution... At least, you'd
think
... With a first love like this, I'm surprised Üso ever regained an interest in women. I suppose he has his own personal Dark History going.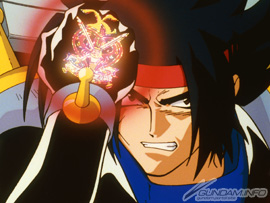 "This hand of mine is burning red! Its loud roar tells me to grasp victory! Erupting! Burning! Finger! Domon Kasshu (from Mobile Fighter G Gundam)
 Neo Japanese Gundam Fighter Domon Kasshu.
  Domon, a runaway, is saved by Master Asia, a martial artist bearing the "King of Hearts" crest that marks him as the colonies' best fighter. While he learned the style of the Undefeated of the East, this is what he cries out while unleashing his own "Erupting Burning Finger" attack. Take special note of how he rolls the vowels in "erupting".
 Domon Kasshu is the energetic young hero of
Mobile Fighter G Gundam
, probably (?) the most passionate of all the Gundam series. Shouting this as he fires up his ultimate attack has to be a way to focus his energy, right?
  I mean, it's also telegraphing it loud and clear and giving them time to get out of the way or counterattack, but... (← Obviously dodging is against the Gundam Fight tournament rules.) Oh well, it's not like this is the only show where no one ever thinks to dodge.
 I can't really think of anywhere to use this in real life (...........) but I'm sure we've all just imagined shouting it at that stick-in-the-mud teacher or braindead boss after they turn their back? (← Let's give it a try out loud sometime.)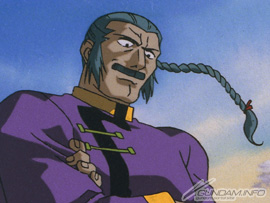 "That's why you're such a fool!" Master Asia (from Mobile Fighter G Gundam)
 Last but not least, we come to Master Asia, the martial artist who taught Domon Kasshu everything he knows. (
Mobile Fighter G Gundam
episode 45, "Farewell, Master! Master Asia's Last Breath")
 Known as the "Undefeated of the East", this martial arts master who led Neo Hong Kong to victory in the Gundam Fight is also the only man (is he even human!?) ever to take down a mobile suit bare-handed.
 Master Asia trained his disciple Domon Kasshu in the martial arts, but later, as he takes control of the Dark Gundam in a bid to purify the Earth's environment by eliminating humanity from its surface, he becomes Domon's greatest—and most powerful—rival.
  Master Asia, whose own bitter experience brings him to the harshly idealistic philosophy that Earth would be better off without humanity, contrasts with his dear disciple Domon who can't bring himself to make that final leap. In their final battle, a clash for the ages, Master Asia shouts this at Domon.
 In an overheating scene where the student's burning passion is outshone only by the master's, with action so fast it's impossible to tell whether the two are fighting in their Gundams or hand-to-hand, this cry instantly strikes the viewer.
  Domon and Master Asia are communicating not through words, but through the interplay of their fists. Such intensity, such ardor, leaves one breathless, unable to do anything but watch until the end. It almost makes you feel like, if Domon loses, Master Asia's right and humanity should be wiped from the face of the earth. (← This probably isn't a good thing to stay convinced of!) This clash, with each combatant fighting with every ounce of energy and zeal they can muster, is also one of Gundam's best fight scenes. (You should watch it!)
 Speaking of which, all through this episode (
Mobile Fighter G Gundam
episode 45) Master Asia's been
really
harsh on Domon. It works because of how much they've been shown bonding as master and disciple over the course of the Gundam Fight. Normally, you'd just really want to smack him for it. Like Kamille, or Katejina...
Anyway, it's time to go get the stuff—err, I mean, that's all for our fourth look at Gundam's famous lines!
Oh, isn't Gundam just so fascinating?
Well, well, well, well, well, well, well, well, well, well, well, well, well, well, well, well, well, well, well, well, well, well, well, well, well, well, well, well, well, that's it for this week. Next week we'll be taking another laid-back look at what makes Gundam Gundam!
[Author profile]
Ema Baba
Scriptwriter. Troublemaking scenarist.
Learning more every day to teach you about the fun of Gundam!
Abilita i cookie per visualizzare gli articoli raccomandati