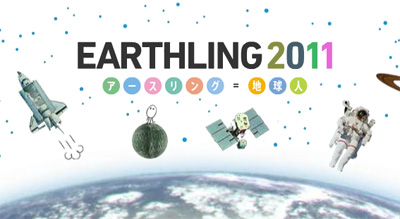 "Earthling 2011," on the theme of humans as earthlings, will be held July 30th and 31st at Keio University's Hiyoshi Campus.
At the event, thirty prominent scientists, designers, and artists will give presentations, including a special talk at 6:00 PM on July 30th featuring director Yoshiyuki Tomino. He will give a short presentation, focused on humanity's consciousness as earthlings, on our future potential.
Attendees will also receive the "Earthling Tokubetsu-Go," contributed to by nine other "Earthlings."
Tickets are ¥3,000 a day in advance, ¥5,000 for both days. Student admission is ¥3,000 for the weekend. Tickets are available at Ticketopia, Circle K Sunkus, and 7-11.
■ Earthling 2011 symposium details
Times
July 30th / 31st, 9:15 AM – 10:00 PM
Venue
Keio University Hiyoshi Campus, Collaboration Complex Library, Fujiwara Hiroshi Hall (Kanagawa-ken Yokohama-shi Kohoku-ku Hiyoshi 4-1-1)
Tickets
< Advance >
One day ¥300

Two days ¥5,000 (general public) or ¥3,000 (students)
Available from Ticketopia (P-cde 618-876,) Circle K Sunkus, and 7-11

※ Students must show a valid student ID at the door
※ ¥1,000 of each day's admission will be donated.

Program
< Day 1 >
・Opening
・Earthling Talk 1
・Session 1
・Session 2
・Session 3
・Special Talk (Yoshiyuki Tomino)
・Closing

< Day 2 >
・Opening
・Earthling Talk 2
・Session 4
・Session 5
・Special Program
・Session 6
・Earth Dialogue
・Closing
For more information, visit the Earthling 2011 symposium site.
Abilita i cookie per visualizzare gli articoli raccomandati