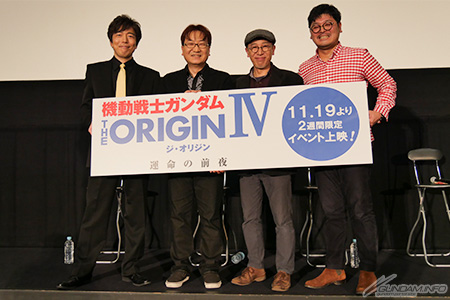 A pre-event took place on November 18th (Fri) at Shinjuku Picadilly in Tokyo. It was held ahead of the Mobile Suit Gundam THE ORIGIN IV Eve of Destiny screening event that began on November 19th (Sat) and will continue for 2 weeks at 15 theaters countrywide.
The event began with a powerful yell of "Jet Stream Attack!" as Mr. Kazuya Ichijo, voice of Gaia, Mr. Kenichirou Matsuda, voice of Ortega, Mr. Toshihide Tsuchiya, voice of Mash, and Producer Osamu Taniguchi went up on stage. They dashed up the stage as they were surrounded by the warm applause from fans that filled every seat of the event.
The talk show then promptly started. Mr. Ichijo was asked about his mental state when his role was decided, saying that, "Since I'm a Mobile Suit Gundam fan, just the fact that I even received an audition was an honor." Mr. Matsuda and Mr. Tsuchiya both agreed with his response. When he heard by phone that he had passed his audition, Mr. Tsuchiya had said, "The lead role has been decided!" and wondered with his heart beating wildly, "Is it Amuro? Is it Char?" as he was about to confirm it, revealing his story behind his role as Mash.
There were also many veterans within the cast. Although there was an air of tension at the studio, they all remembered a sense of security that they felt after seeing Mr. Shuuichi Ikeda, who voices Char, have fun as he recorded and while recording they could feel at ease. However, the studio was terribly hot and it may have been because the cast was full of male voice actors. When they measured the temperature before and after the recordings, the temperature had gone up as much as 3°C and that heat comes across in the work itself. Producer Osamu Taniguchi had even stated in the audio commentary on the THE ORIGIN IV Eve of Destiny Blu-ray that it was a "male fest" and was a force that became close to becoming bloopers. If you are interested, definitely check it out.
Furthermore, comments were made about the characteristics unique to their costars who loved Gundam. Mr. Toru Furuya, voice of Amuro, was said to be "a monster in a good way. He's adorable (to an unthinkable degree because of his age)." Mr. Toshio Furukawa, voice of Kai, was "so much like Kai, it was surprising."
They then talked about Lalah who is a new character in this episode. "Ms. Saori Hayami experienced the pain of the birth of a character named Lalah" and revealed the unknown story of the birth of her anything but difficult role.
When asked about his thoughts on the completed episode, Mr. Ichijo called the line-up of "Black Tri-stars," the "Blue Giant" Ramba Ral, and the "Red Comet" Char Aznable a "miracle team" and did not hide his excitement. Here, Producer Taniguchi raised a question about their mental state when acting out the mobile suit battle scenes, "Though what is projected on the screening were mainly nothing but mobile suits, with what feelings did you act out these scenes?" The three unanimously said, even moving me, that it was like acting out a hand-to-hand combat scene. Together with the different movements of each of the three mobile suits in the episode, they spoke of a common sensation, "Rather than piloting, it was like becoming the mobile suit itself."
After the talk show, a lottery raffle took place with the prize of a Gunpla signed by the guests.
Additionally, Mr. Matsuda demonstrated his Gihren impression with his customary "Sieg Zeon" chant and the theater burst into great laughter.
Lastly, the guests ended the talk show with their comments. The episode was then shown and the event ended with great success.
Kazuya Ichijo (Gaia)
From here, we, the characters of the so-called "Black Tri-stars," will be plunging into the Loum Arc. I believe that by watching THE ORIGIN IV Eve of Destiny, which is one step short of that arc, viewers can completely immerse themselves in this world.
Kenichirou Matsuda (Ortega)
Human drama, political drama, and mobile suit battles; this is an extremely rich story and I think the audience will definitely enjoy it. This is a passionate series that was completed by staff and cast who poured their heart and souls into it. Please spread the message, thank you very much.
Toshihide Tsuchiya (Mash)
General Director Yasuhiko and all the staff have poured their hearts and souls into creating this episode. The cast have also poured themselves into this series with the intention of not losing to them. I would like it if everyone enjoys this episode. Please continue to support the series as we go into the Loum Arc.
Producer Osamu Taniguchi
It has taken us 3 years to finally arrive at this point. We were also finally able to have Ms. Hiroko Moriguchi sing the theme song, so please carefully listen to the ending.
I hope that the Loum Arc, which will begin screening from next year, will also be very interesting. Even the trailer will have you trembling. However, before that, I would be very thankful if everyone comes to watch THE ORIGIN IV Eve of Destiny 2 or 3 times. Thank you very much for today.
Mobile Suit Gundam THE ORIGIN IV Eve of Destiny is currently holding its screening event for 2 weeks until December 2nd (Fri) at 15 theaters countrywide. On November 29th (Tues), there will be a staff talk show and on December 2nd (Fri), the final day of the screening event, the final screening and stage greetings will be held.
At the screening theaters, presents will be distributed to attendees and will be different depending on whether it is the first or second week. In addition, the Loum Arc preview, which will screen next after this episode, will be the mecha version in the first week and the character version in the second week.
Prerelease theater Blu-ray sales and paid online streaming have also begun. Definitely check them out.
※Names are written without honorifics in a portion of this article
(Gundam Info Editorial Department)
Abilita i cookie per visualizzare gli articoli raccomandati