1º dicembre 2011
Mobile Suit Gundam Extreme Vs. is here! We bring you Midorikawa and Koyasu trying it out! [Part 2]
This time, they give the online 'Player Match' mode a shot!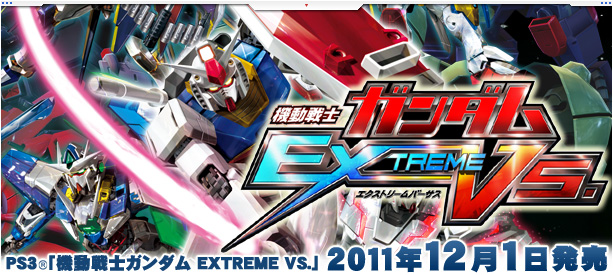 Mobile Suit Gundam Extreme Vs. is now on sale for the PS3®! Just like last time, we have actors Hikaru Midorikawa and Takehito Koyasu on hand to try it out!
In part 2, they take a look at the online modes! ⇒ Part 1



Trying the 'Player Match' mode featured in the arcade, they play their favorites and their own old roles!

We bring you four action-packed matches!

Midorikawa picks the Hi-ν Gundam, his favorite since he first saw Gundam!
Meanwhile, Koyasu's choice is his habitual Tallgeese III!

We watch Koyasu's screen! This time, Midorikawa changes to the Unicorn Gundam.

Koyasu: 'I dreamed. I dreamed that I was losing.'
This is the second round of their second duel! Will that dream come true? Or was it false?!

Finally, they each choose a role they played! What will be the result!?
※ Movies available until 5:00 PM, February 1st.
Mobile Suit Gundam Extreme Vs. for the PS3®, with modes that make sure you'll never lack an opponent, is now on sale!
If you see a copy, be sure to pick it up!
Hikaru Midorikawa (left) Born May 2nd From Tochigi
Major appearances: Mobile Suit Gundam Wing (Heero Yuy), Slam Dunk (Kaede Rukawa), Dragonball Kai (Tenshinhan), s-CRY-ed (Ryuhou), Super Robot Wars OG (Masaki Andow), and more
Takehito Koyasu (right) Born May 5th From Kanagawa
Major appearances: Mobile Suit Gundam Wing (Zechs Merquise), ∀ Gundam (Gym Gynganam), Mobile Suit Gundam SEED (Mu La Flaga), Mobile Suit Gundam SEED DESTINY (Mu La Flaga, Neo Roanoke), Gintama (Shinsuke Takasugi), Tales of the Abyss (Jade Curtis), and more
Mobile Suit Gundam Extreme Vs.




Date: December 1st, 2011

Price: ¥8,380

Platform: Playstation® 3

Genre : Team Battle Action

Players: Offline 1-2 (online 2-4)

CERO: A (All ages)
Abilita i cookie per visualizzare gli articoli raccomandati