2º settembre 2012
Grasp a decisive victory with two new battle systems in Lost Heroes!
Let Drive Skills and the Color Timer lead you to victory!

In Lost Heroes, due out on the 3DS and PSP September 6th from Namco Bandai Games, you build a party of four from a roster of 15 Gundam, Ultraman, and Masked Rider characters and delve the depths of a dungeon. As you level up heroes old and new, battles get more and more exciting!
This time, we look at Drive Skills and the Color Timer.
■
Drive Skills
Non-Force attack skills can be used in Normal or Drive modes. Using a Drive skill costs one point for the Hero Gauge, but powers up the skill by one level.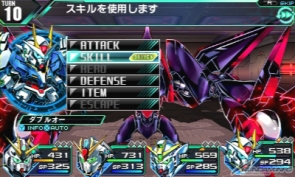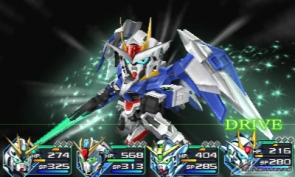 00 Gundam's GN Sword III is powered up in Drive mode!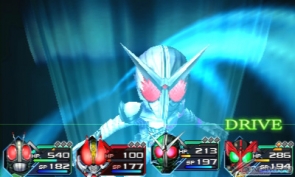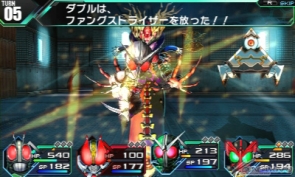 Masked Rider Double's Fang Strizer can be powered up too. Use your Hero Gauge points wisely!
■
Color Timer
The Ultramen begin battle with a blue color timer. After three turns it turns red, reducing most stats but boosting their critical hit rates.
After three more turns pass, it returns to blue.
| | |
| --- | --- |
| Ultraman Zero uses his Zero Knuckle! | With the color timer in blue, it does 366 damage. |
| | |
| --- | --- |
| In red, it does only 2. | But when he scores a critical hit, it inflicts a massive 549 damage! |
■ New gameplay footage!
New in-game footage is now available!
Be sure to check it out!
※ Images from development version.
※ Images from 3DS version.


© Ishinomori Pro, TV Asahi, ADK, Toei
© Ishinomori Pro, Toei
© Sotsu, Sunrise
© Sotsu, Sunrise, MBS
© Tsuburaya Pro
Lost Heroes
Date: September 6th, 2012
Price: ¥6,280
Platforms: Nintendo 3DS, PSP®
Genre: Hero RPG
Players: 1
Network: Streetpass
CERO: B
Abilita i cookie per visualizzare gli articoli raccomandati