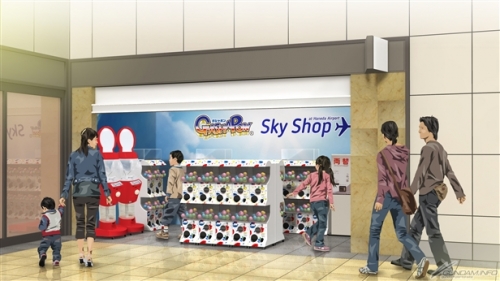 It has been decided that the Bandai Vendor Department will open an official capsule toy (Gashapon®), "GASHAPON SKY SHOP," on basement floor 1 (B1F) of Haneda Airport Domestic Passenger Terminal 1 on April 5th (Wed.)
"GASHAPON SKY SHOP" will establish a store on B1F where approximately over 70 million Haneda Airport consumers often pass through when transferring railways. The objective of this store is not only to magnify the visibility of the gashapon brand, but also to allow many of its fans, regardless of whether they are domestic or foreign, to acquire its products.
Furthermore, this shop will be the 2nd official shop to open following the opening of "TOKYO GASHAPON STREET" in First Avenue Tokyo Station on March 1st (Wed.) There will be 22 gashapon machines inside the store with each machine installed with 2 different varieties of gashapon on the top and bottom, making for a total of 44 different product series lined up. The store will sell products based on souvenir demands of tourists from the countryside and foreign visitors as well as products for airport consumers of various classes.
Definitely please try to visit the store once when you are at Haneda Airport.
GASHAPON SKY SHOP(ガシャポンスカイショップ)
[Address] Haneda Airport, Ota-ku, Tokyo Domestic Passengers Terminal 1
[Scheduled Opening Date] April 5, 2017 (Wed)
[Business Hours] 5:00am – 12:00am
[Business Holidays] None
[Administration] HAPPINET CORPORATION / Vending Services
Abilita i cookie per visualizzare gli articoli raccomandati