21º novembre 2016
A release was published on Dengeki Hobby Web, about the new specific MA type "Helios Mariner" of the Zeon Mars "A.O.Z Re-Boot" series!
Announcing and presenting the prototype, "MAN-08S Helios"!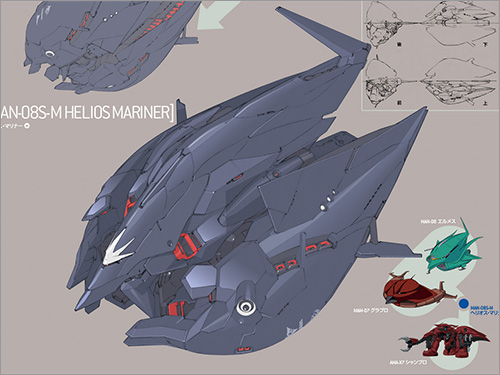 On Dengeki Hobby Web, new illustrations by the mecha designer Fujioka Kenki, who works on the popular serialized comic "A.O.Z Re-Boot Gundam Inle - Black Rabbit Had a Dream", were released, revealing the "MAN-08S-M Helios Mariner".

The machine was assumed to be the successor of the Zeon Mars' "MAN-09 Ermes", with a remodeled airframe, the new specific type MA "MAN-08S Helios" is able to jump in underwater situations for the Inle rescue operation.
With the remodelling, there was a plan to create resisting airtight body and submarine propellers, and both sides (left and right) of the binder were equipped with "Magnetohydrodynamic lead propellers (MHD)".
Since the Helios prototype's explanation was released online, don't forget to take a look at it!
If you check on the Dengeki Hobby Web, you can also have and interactive detailed explanation alongside the beautiful illustrations by Fujioka Kenki!

▼Dengeki Hobby Web's "A.O.Z Re-Boot" new illustrations summary
http://hobby.dengeki.com/title_re-boot/
Abilita i cookie per visualizzare gli articoli raccomandati