7º dicembre 2016
Gundam Café, the "Iron-Blooded Orphans ~Tekkadan's yet again fair~" is extended up to January 23rd!
From December 26, new additions to the menu! There's also a New Year menu, complete with the alcohol holding box!

Thanks to the overwhelming popularity of the current "Iron-Blooded Orphans ~Tekkadan's yet again fair~", held in the official Gundam cafes "Gundam Café Akihabara", "Gundam Café Driver City Tokyo Plaza" and Ōsaka's "Gundam Square", it was granted an extension, making the event last until January 23, 2017. From Monday, December 26, new items will be added to the menu. The Akihabara café and Gundam Square will have the "Tekkadan, New year's celebration meal", which is made after the concept of New Year, while the Driver City Tokyo Plaza will have the "Almiria handmade cupcakes", respectively. Also, the special menu paper was completely changed with a design to introduce the new character of Gjallarhorn.

■Additional menu items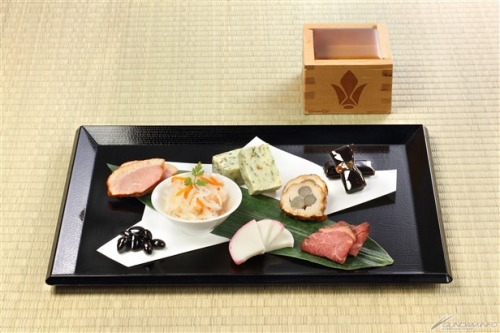 Tekkadan, New year's celebration meal
Price: 1,944 yen (tax included)
Smoked duck, a collection of different vegetables, red and white Kamaboko arranged with other types of fish. It comes with an alcohol holder, which gives off a new year's vibe.
The alcohol type is "Kaga no Tsuki New Moon", but it can be switched to a "Amazake" on customer's request.
※It comes with a Tekkadan Original holder.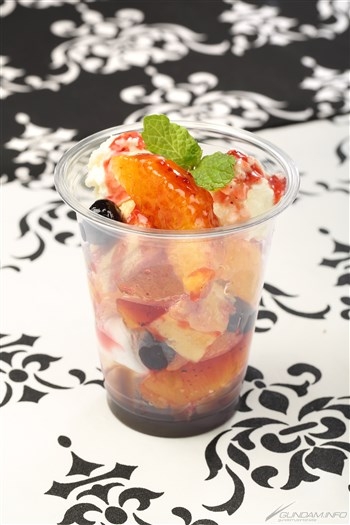 Almiria's handmade cupcakes ~Orange and Mascarpone hot sauce~
Price: 518 yen (tax included)
The always brave and cheerful Almiria baked cupcakes for you all! As a member of the Bauduin family, she can't possibly be in low spirits.
■Exclusive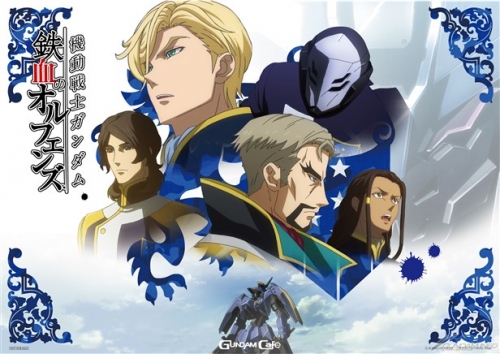 Original menu paper
Newly introduced Gjallarhorn!
※The original menu paper will be terminated once all the café runs out of all of them.
Also, until Sunday December 25, the place will sponsor three new meals: "Tekkadan's Merry Christmas", "Almiria's handmade cupcakes (Christmas ver.)" and "For the Orphans". For the rest of the menu items, refer to
this link.
GUNDAM Café Akihabara
[Location] Tokyo-to, Chiyoda-ku, Kanda Hanaoka-chō, 1-1
[Access] JR Akihabara station, about one minute on foot/Tsukuba EXP Akihabara station, about two minutes on foot/Toei Shinjuku line Iwamoto-chō, about three minutes on foot.
[Opening hours] 10:00-22:30

GUNDAM Café Diver City Tokyo Plaza
[Location] Tokyo-to, Koto-ku, Aomi, 1-1-10 Diver City Tokyo Plaza 2F
[Access] Rinkai line, Tokyo Teleport Station, about three minutes on foot/Yurikamome Line, Daiba Station, about five minutes on foot
[Opening hours] 10:00-21:00

GUNDAM SQUARE
[Location] Ōsaka-fu, Suita-shi, Senribanpaku park, 2-1, Inside the Lalaport EXPOCITY
[Access] Ōsaka Monorail, Banpaku-kinen park station, about two minutes on foot
[Opening hours] 11:00 – 22:00
Abilita i cookie per visualizzare gli articoli raccomandati