25º ottobre 2017
"Monthly Gundam Ace December 2017" released today!
Gundam 00 10th Anniversary Issue! ! Special appendix is only available here! "Full size unicorn statue clearance file"!
Monthly Gundam Ace December 2017
Released October 26 2017
Price:700 yen(tax included)
■ Great Echo! Ultra big huge new series, episode 2! ! "Mobile Suit Zero MOON Gundam"
Story: Harukoshi Fukui, manga: Takaya Takayuki, mechanic design: Ippei Shape
Neo Zeon 's new MS "Vargill" takes off the veil!
■ 10th Anniversary Special Project! "Interview with Director Mizushima Shiji & Reina Tanaka"!
Interview with Shuji Mizushima looking back over 10 years from broadcasting. And from the middle stage, Neina Trainee's model, Reina Tanaka also joined. Beginning with "Gundam 00", flowers bloomed in various topics such as Nena's birth privacy story, voice actor audition, and Tomino Yoshiyuki's general manager!
■ Resurrection New Series! "Mobile Suit Gundam UC Bandesine Episode: 0"
Story: Harukoshi Fukui, manga: Kozo Omori
Komitsu Omori, returning after 10 months! ! "Bandezine" to a new area -! !
■ GG 30th anniversary commemoration + GA 15th anniversary commemorative work! "Mobile Suit Gundam Walpurgis"
Manga: Kyushu Hiyon, Screenplay: Marine Winter Rage
Mashiro is Papthasmus Sirocco! What? What is its true meaning? Space century 0089, the third episode approaching the mystery hidden in Mashiro! !
■ After a year and a half of silence ... This new edition rushed into chapters! ! "Mobile Suit Zeta Gundam Define"
Manga: Hiroyuki Kitazume, Supervisor: Kenichi Matsuzaki, Mechanic design cooperation: Nobu Takigawa
A woman getting into a car .... Restart ... Amuro and Seira!
Mr. Kitazume's interview with the restart of the main section of the main chapter!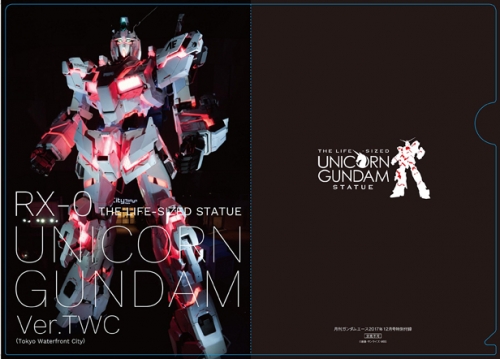 ▲ The special appendix is "the real unicorn standing statue clear file"!
Abilita i cookie per visualizzare gli articoli raccomandati