24º gennaio 2018
"Monthly model graphics March 2018 issue" released today!
Gundam discovery - "HG Gundam (actual deployment type)"!
Monthly Model Graphics March 2018 Issue
Released January 25th 2018
Price:743yen(tax excluded)
■ [Feature] Volume RX-78-2 Gundam
Why do we continue making the RX-78-2 GUNDAM repeatedly? Now that this magazine has finally celebrated the commemoration of the number of 400, I would like to reaffirm seriously about the iconic (statue) called RX - 78 - 2 which is the origin of character modeling and at the same time a mystery.
■ " Morimoto ga Nya's Gundam Modeling Discovery" 52nd issue!
Mamoru Morimoto is familiar with the report comic book
「SD Gundam Phenomenon」
which is a popular series at Gundam Info, as a column to introduce various kinds of Gundam with manga every time. In the 52nd "Mobile Suit Gundam 00", "HG 1/144 Gundam (actual deployment type)" is introduced.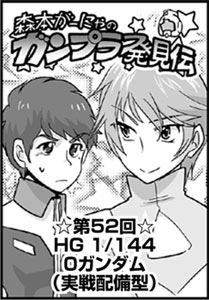 Abilita i cookie per visualizzare gli articoli raccomandati