"What is 'Gundam', anyway?" This simple (?) question is answered in our fifty-second casual weekly column just for new fans!

by Ema Baba
What's very, very long? A super-simple intro column for new Gundam fans! We're back with Part 52 of what makes Gundam Gundam.
You can see our previous coverage of what makes Gundam Gundam
here
, and this week we're back with another Gundam standard!
One last thing that's vital to Gundam is its cast of nice—and sometimes naughty—main characters. But who's really watching over them, giving them the protection and encouragement they need to charge into battle? There's always that special someone! And, oddly enough, they have a shared trait too. (Do you know what it is?)
Moving on from robot nerds to special someones, let's take a look at the "Main Characters of Gundam" (Part 2)!
???
Gundam's main characters have special someones!?
ヲ Flit Asuno/Emily Amonde (
Mobile Suit Gundam AGE
)
Emily, deeply connected with Flit (main character of his own arc and a driving force throughout the show,) is the first friend he made after losing his mother and arriving on the colony Nora. She's also the granddaughter of Vargas Dyson, head of the engineering squad at Arinston Base (Flit's nominal superior, a famous mechanic, and a sprightly 55 years of age.) A robot-obsessed granddad is sure to mean robot toys, including a Haro which she loves (and a career as a mechanic later in life)—and on top of that, she's the hottest girl in school until Nora is destroyed.
Flit, a Gundam enthusiast whose ancestors built the original Gundam, is a natural match for her, and in turn she tries her hardest to keep him out of danger as a civilian on the battlefield, even attempting a solo rescue mission when he's captured.
At first it seems like she's going to lose out to Yurin Luciel, who Flit rescues in episode 2 and who shares his X-Rounder talent, but in the end she wins the Flit Bowl and goes on to bear his son Asemu and daughter Unoa.
Constantly supportive, she's a good wife, smart mother special someone (← traits which are rare in Gundam!)
ヲ Kira Yamato/Athrun Zala (Mobile Suit Gundam SEED, Mobile Suit Gundam SEED DESTINY)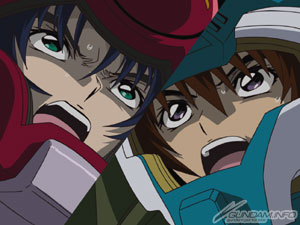 Even here, it doesn't need to be mentioned that Kira and Athrun are (unusually for Gundam?) absolute heartthrobs to female fans. Kira and Athrun were close friends during their childhood on the moon, torn apart when Athrun's family moved to the PLANTs (a new style of colony.) As a token of his feelings, Athrun gave Kira the pet songbird robot Birdy. Birdy's presence and expressiveness during the future passionate, fated encounters between the two would surely qualify it for the Academy A-burds. Okay, maybe that's pushing it a bit, but without Birdy, the two dear friends, both ladykiller robot nerds but Kira naive and sensitive (← delicate?) while Athrun is sometimes more brusque, would never have been drawn into the storm of fate which pitted them against each other. They're like a battlefield Romeo and Juliet, or Anzu and Zushiomaru (← okay, that's pushing it), aren't they? This duo, who showed a whole new side of Gundam and set the standard for a new generation, are each other's frenemy special someones.
ヲ Rolan Cehack/Fran Doll (∀ Gundam)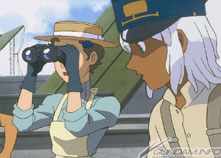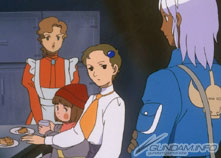 Fran Doll is a newspaper reporter who knew the main character, Rolan Cehack, from childhood. She and Loran, and budding baker Kieth Laijie, are actually from the Moonrace, a lunar culture which sends them as advance reconnaissance for a recolonization of Earth.
At first, she signs on with the Knox Chronicle as a press operator, but when the Moon and Earth go to war two years later, she takes on a role as a war correspondent who at times embeds with both sides.
One day, Fran sees Rolan, who had helped a starving band of colonists by using the Turn A to turn cattle (← the Turn A features best-in-class chest-mounted barn space) only to be jeered by Earthlings. Snapping at their bias, he proclaims that he himself is Moonrace.
This makes it into Fran's report, which isn't necessarily helpful as it leads to his capture.
Fran Doll has a journalistic passion for telling the whole truth, and she won't place even her man before it; she's a "pen is mightier than the sword" special someone.
ヲ Üso Ewin/Shakti Kareen (Mobile Suit Victory Gundam)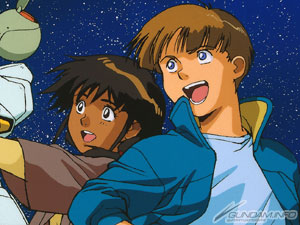 A black-haired, brown-eyed girl, the kind you might hear described in a summery and country-tinged song, Shakti Kareen is a special someone for protagonist Üso Ewin.
She's also a talented healer, the daughter of Zanscare Empire figurehead Maria Pure Armonia, and the niece of Zanscare commander Chronicle Asher.
She has a nearly palpable air of serenity, and at first Üso treats her as a little sister (the feeling seems to be mutual, as she takes care of him as well.)
Her (possibly hereditary) strong Newtype powers even manage to break apart the Empire's ship-scale Psycommu weapon Angel Halo from inside its core in the final battle. Even Üso, similarly "special", is shocked.
Shakti is the opposite of the (← thriller movie style) "demon with the face of an angel" Katejina, who shows her true stripes later in the show; behind her plain looks lie great power and nobility. She's a plain, peaceful someone special.
ヲ Kamille Bidan/Fa Yuiry (Mobile Suit Zeta Gundam)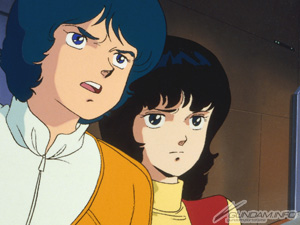 Fa Yuiri is a classmate of main character Kamille Bidan. She's a nearby neighbor of Kamille's, and helps with meals and the such when his parents are away (which is often.) However, when a chain of events occurs which ends in Kamille hijacking a Gundam Mk-II, she ends up suspected of involvement and on the run from the EFSF's Titans special forces. (← Man, Kamille, why you gotta be like that?) However, she's rescued by Bright Noa (Captain Bright!) who desides to join the Anti Earth Union Group. Taking refuge aboard the assault cruiser
Argama
, she meets Kamille again, which confirms suspicions of her (nonexistent) involvement of the Gundam-jacking enough that her parents cut off contact. This would be a completely plausible reason to hate Kamille (← I do now!), but she's still concerned enough for him that she also enlists as an AEUG pilot. While she's not a particularly apt soldier, she, I suppose, wants to be by his side. (← Gutsy.)
However, this loyalty isn't returned; Kamille falls for the beautiful Four Murasame after their hearts connect during a fight in Hong Kong City (she's a Cyber-Newtype,) which sets (← visible) jealousy in Fa.
Perhaps rebellious, pubescent Kamille was simply sick of her motherly or sisterlike nitpicking.
As Kamille awakens as a Newtype, eventually to the point of complete mental collapse, though, she still watches over him. Fa is someone special in a maternal way.
ヲ Amuro Ray/Fraw Bow (Mobile Suit Gundam)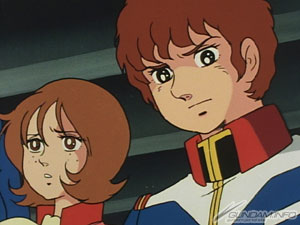 Last, but definitely not least, is Fraw Bow. She's someone special to familiar face Amuro Ray of
Mobile Suit Gundam
. First Gundam is packed with women who are appealing in some way, from Sayla Mass to Mirai Yashima, Matilda to Kycilia, and more, but Fraw Bow also features in almost every episode.
She lives a peaceful, happily domestic life as Amuro's girlfriend on Side 7.
When the peace is shattered by Zeon mobile suits, and she loses her family before her eyes, she panics, but Amuro leads her to refuge on the Federation ship
White Base
. Onboard, she creates her own (← adorable) uniform, and takes charge of caring for the ship's wounded and ill, and war orphans Katz, Letz, and Kikka, as well as Amuro.
However, her efforts go unnoticed by Amuro (← he's rather oblivious), who instead develops a crush on the beautiful supply officer Matilda to the extent that he drools over candid photos of her.
She may well be privately seething, but Fraw is above all else a patient woman, and she eventually marries Amuro's neighbor from Side 7, Hayato Kobayashi (and apppears as Fraw Kobayashi in
Mobile Suit Seta Gundam
.)
But wait, Amuro isn't just a childhood boyfriend, he's a Newtype with psychic perception. He must have felt the gap growing between them. (← And it must have been rending.)
While, cruelly, her feelings never reached Amuro, her support still had an incredible impact on his development as a person.
She's an extra-special kind of someone special: the first love.
And that's all for our second look at the main characters of Gundam!
Oh, isn't Gundam just so fascinating?
Well, well, well, well, well, well, well, well, well, well, well, well, well, well, well, well, well, well, well, well, well, well, well, well, well, well, well, well, well, well, well, well, well, well, well, well, well, well, well, well, well, well, well, well, well, well, well, well, well, well, well, well, that's it for "Gundam School"!
And what a year, what a very busy year, it's been. Even after 52 columns, I've only just brushed on the depth of what there is to know about Gundam.
Thank you so much for reading! Someday, let's meet again!
[Author profile]
Ema Baba
Scriptwriter. Troublemaking scenarist.
Learning more every day to teach you about the fun of Gundam!
Abilita i cookie per visualizzare gli articoli raccomandati