What is 'Gundam', anyway?" This simple question is answered (maybe) in 51st casual weekly column!
by Ema Baba
What's strangely adorable, as long as you don't look too closely? A super-simple intro column for new Gundam fans! We're back with Part 51 of what makes Gundam Gundam.
You can see our previous coverage of what makes Gundam Gundam
here
, and this week we're back with another Gundam standard!
One more thing vital to Gundam is its cast of unique main characters—of course, given that without characters there would be no plot.
Their lives, their pasts, and their personalities are all different, but maybe they have some unexpected things in common?
Let's take a look at the "Main Characters of Gundam" (Part 1)!
???
Gundam's main characters are usually robot nerds themselves!?
When I say "robot nerd", I realize you're probably thinking of a lost soul rooting with maniacal focus through the parts bins somewhere in the cavelike back alleys of Akiba—you know the place, a couple blocks west of Chuo-dori and close to the river. (← And not that I'm in any position to throw stones from the luxury of my glass house.) But Gundam's main characters are more relaxed, more genuinely enthusiastic, more like that one cute shy boy in math class. Even the pet robot Haro (← wait, Haro's in everything, is IT the real protagonist?!) gets tweaks and upgrades. And sometimes the Gundams themselves are reprogrammed on the fly. (← omg hax) It must be nice to be able to put together your own robots, though! It doesn't seem like robot vacuum cleaners and the like are something you can order online in the U.C. On the other hand, for some of them, this doesn't leave much time for friends or greater ambitions... So perhaps Gundam did see into the future.
ヲ Amuro Ray (Mobile Suit Gundam)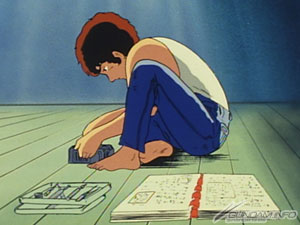 And that brings us to the top of the lineup, Amuro Ray. Of course, you'll recognize him as the protagonist of
Mobile Suit Gundam
, and the first mecha main character to break out of the "angry young alpha male or occasional dreamboat" mold.
While he's a robot nerd with an introverted personality and a tendency to focus on the negative, these are also just the outer signs of his boyish naivete and vulnerability. (← And maybe also of his Newtype potential.) Amuro, the son of researcher Tem Ray (builder of the Gundam), takes to machines and computers from a young age, and his (← heavily self-modified pet robot Haro is one of his closest friends.
Haro is more than just a pet bounding at Amuro's heel, though. Its functions range from reading brainwaves (!?) to entertaining children (Katz, Letz, and Kikka), warning of danger, and even fighting valiantly (?) at Amuro's side. With Amuro's customizations, Haro is even durable enough to withstand punting by an angry Fraw Bow. He definitely knows his way around a build. If Amuro were around today, he'd probably end up in Silicon Valley or Shenzhen.
Haros show up in other Gundam series too, but interestingly, the design and basic concept remain the same. Amuro's mechanical aptitude shows up elsewhere, too—he does an incredible job at piloting the Gundam when he ends up in the cockpit with no training. He can wear the title of "Gundam's First Robot Nerd" with pride!
ヲ Judau Ashta (Mobile Suit Gundam ZZ)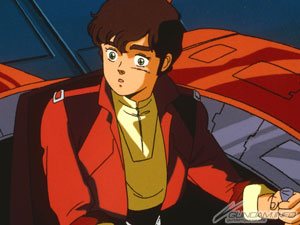 Next is Judau Ashta, a scrap trader on the Side 1 colony
Shangri-La
. "Trader" may conjure up the wrong mental image, though, as Judau is a (←n endearingly '80s) street punk. This assessment is a little unfair, though, as he's not just working for spending cash. Instead, Judau has dropped out to support his family and is saving to send his little sister to a private school. A real tearjerker, isn't it? My eyes are fogging up as I type this. Direct, positive, and personable Judau is the polar opposite of Amuro, and the archetypical siister-loving robot. (← Is that even a thing? Should that even be a thing?)
Sneaking onto the A.E.U.G. (Anti-Earth Union Group flagship Argama and attempting to steal the legendary Zeta Gundam is a great way to kick a story into overdrive from episode 1, but no! Wrong! Bad! Don't take things that belong to other people! (← Uh, okay.)
Garrod Ran (After War Gundam X)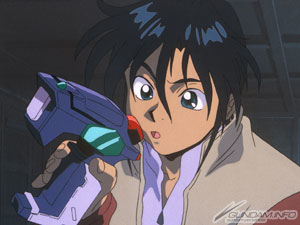 Garrod Ran lives the life of a "Vulture"—a man who captures (!?) and scraps military wreckage with his own two hands. Rather than his little sister, Garrod is in the business for himself, not out of greed but simply out of necessity. Originally, his ambition was to become a mobile suit mechanic, but when his father (a military technician) was killed in the war the orphan Garrod ekes out a living scavenging. ... I'm fogging up again.
Garrod likes to live dangerously, as seen when he jacks the Gundam X from the ruins of an old Federation research facility, or when he meets Tiffa Adill there and falls in love at first sight, or when he sets up shop in the center of town proclaiming "I'm selling a Gundam!". Maybe he's a fervently individualistic auctioneer robot nerd? (← Seriously?)

ヲ Kira Yamato, Athrun Zala (Mobile Suit Gundam SEED, Mobile Suit Gundam SEED DESTINY)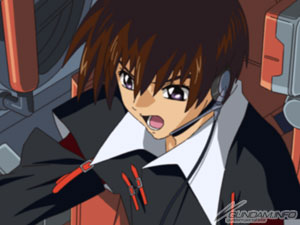 Kira and Athrun were best friends in nursery school at the lunar colony Copernicus. When Athrun's family moved to a newer PLANT colony, he gave Kira a bird-shaped robot, aptly named Birdy, as a symbol of their friendship. (Birdy was started by Kira, but completed by Athrun.) This entire process has ongoing implications for their tainted lov—eeerrrrrr, complex and stormy friendship.
Athrun has also done favors for his fiancee, Lacus Clyne, like repairing the dog robot she rode as a little girl, or giving her a succession of happy Haros after Pinky, her first, overjoyed her.
Kira isn't about to be beaten, though! After enrolling in a technical college, he becomes a super hacker (← SUPAR HACKAR) and, when ordered into the Strike Gundam's cockpit by the bodacious Earth Alliance captain Murrue Ramius, proceeds to rewrite its OS in realtime and shoot down an attacking ZAFT squadron.
It isn't enough that Kira is an unrivaled pilot, he also gets to try his customization skills out on a Gundam! Jokes about super-this and super-that aside, Kira really is a super-Coordinator (genetically-engineered human,)
The slightly naive Kira and the more mature Athrrun are ladykiller robot nerds... Which I'm sure attracts quite a bit of envy.
ヲ Flit Asuno (Mobile Suit Gundam AGE)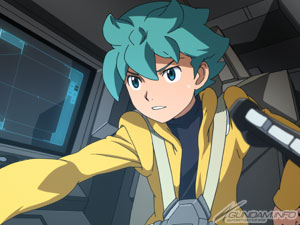 Flit Asuno, the main character of his own
Gundam AGE
arc, is the heir to a long line of Federation MS technicians who turned their eyes to development after the conclusion of the Silver Chalice treaty. An attack claimed his mother's lief when he was only 7, but not before she could give him the AGE Device containing plans for the legendary Gundam. After seven years of research alongside a team of military technicians, Flit's Gundam AGE-1 is completed. It's, by the way, extremely rare for a main character to build his own Gundam! However, when his first love Yurin is killed by his rival Decil, his hatred for the UE (Vagans, the heirs to a Martian colonization project) hardens.
A genius mechanic and an unrivalled pilot, whose passion for the Gundam is lifelong, Flit is an evolutionary robot nerd (and stern father to Asemu/strict grandfather to Kio) whose passion for the Gundam is lifelong.
ヲ Banagher Links (Mobile Suit Gundam Unicorn)
Banagher Links, a student at Anaheim's engineering academy, lives a peaceful (almost TOO peaceful) life until his encounter with a mysterious girl named Audrey Byrne and with the Unicorn Gundam built by his true father, Cardeas Vist, draws him into a destined conflict.
While studying on the factory colony Industrial 7, he also works part-time for the Buch Konzern conglomerate collecting space degree in a miniaturized mobile suit, which is certainly a great job (a dream job?) for az robot nerd.
Direct, frank Banagher is definitely an engineer robot nerd.
For now, that's all for our first look at the main characters of Gundam!
They'd probably be great Gunpla builders in the present day... And, actually, I'd really like to get one of them to mod me a Haro to do things like cook and clean and pick winning lottery numbers. (← No, really, please.)
Oh, isn't Gundam just so fascinating?
Well, well, well, well, well, well, well, well, well, well, well, well, well, well, well, well, well, well, well, well, well, well, well, well, well, well, well, well, well, well, well, well, well, well, well, well, well, well, well, well, well, well, well, well, well, well, well, well, well, well, well, that's it for this week.
This may be a shock, but we've only got one column left! (← What?!) Everything that begins must end, and things need to end for new beginnings. Time to give it my all in the last column!
Next week we'll be taking another laid-back look at what makes Gundam Gundam!
[Author profile]
Ema Baba
Scriptwriter. Troublemaking scenarist.
Learning more every day to teach you about the fun of Gundam!
Abilita i cookie per visualizzare gli articoli raccomandati