"What is 'Gundam', anyway?" This simple (?) question is answered in our fiftieth casual weekly column just for new fans!
by Ema Baba
 What's, unexpectedly, cuter in the tank than on the table? A super-simple intro column for new Gundam fans! (Hopefully...) We're back with Part 50 of what makes Gundam Gundam.
You can see our previous coverage of what makes Gundam Gundam
here
, and this week we're back with another Gundam standard!
Another role vital to Gundam is that of the "schemer"! With pride as high as the mountains and plots as deep as the sea, they're more than just villains—they're deep, and fascinating, influences on the worlds the heroes inhabit.
In part 50, we bring you "Schemers of Gundam" (Part 2)!
●●●
Gundam's schemers pull the strings of some exceptionally vile plots!
Schemers absolutely have to be clever. And sometimes, they have to be willing to let the chips fall where they may...…… Hmm, you know, I think I've led off columns like this before, but whatever. This time we've got a duo who definitely live up to that description!
Gilbert Durandal (Mobile Suit Gundam SEED DESTINY)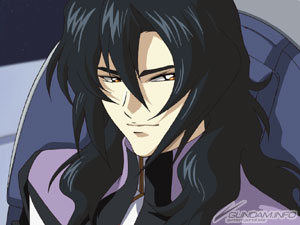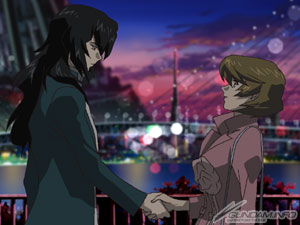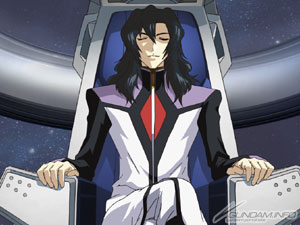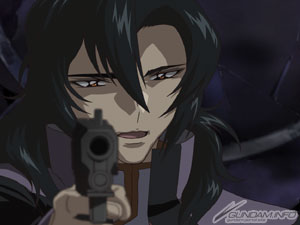 Our second look at the schemers of Gundam begins with Gilbert Durandal. Chair of the PLANT Supreme Council, which governs both the autonomous PLANTs with a populace of genetically-engineered Coordinators and their ZAFT militia, the stylish Durandal is an accomplished geneticist in his own right. Ironically, his romance with Talia Gladys is broken off due to their infertility as a couple and her desire for a child. (It appears that Durandal still carries a torch, as he later throws his political support behind a refit of her ship, the
Minerva
.)
Their separation drives him into a depressed withdrawal, from which he only emerges to champion his "Destiny Plan" of genetic predetermination.
The society he describes, with detailed analysis of inborn traits governing one's assigned career and role in society, seems rational at first glance, but by its very nature also demands the subjugation or culling (political purging?) of those unsuited or unwilling.
Still, for someone so scarred by the vagaries of free will, a world in which every man has his assigned place, his Destiny, does seem to be an honest dream rather than an excuse to amass power. His brand of totalitarianism, if brought to fruition, aims to create a society without conflict where every human is at peace. (← Not sure that's very plausible.)
However, this isn't the only plan he's working towards. More traditional schemes include an attempt to replace Lacus Clyne, the daughter of his predecessor and a PLANT pop star in her own right, with body double Meer Campbell for a propaganda tour. (← The best way to tell them apart? Meer's more risque outfits.)
Honestly, the entire plot is a rather petty scam. Are there really Coordinators who'd fall for the equivalent of "Dear Friend, I am Lacus Clyne, daughter to the late Siegel Clyne of PLANT who was murdered during the recent Bloody Valentine War, and I require your assistance in transferring..."?
Durandal's declared pacifism is also, paradoxically, combined with a passion for mobile suit development, an assassination attempt on perpetual annoyance Lacus Clyne as she lives in anonymous exile in the neutral state of Orb, attempts to censor coverage of the Freedom Gundam, and occasional state sponsorship of terrorist organizations.
Paradoxical or no, hypocritical or no, these tactics are successful at swaying public opinion away from the Earth Alliance and toward ZAFT. Able to eliminate the anti-Coordinator political faction Blue Cosmos and its sister secret society LOGOS, he then seizes the Earth Alliance's "Requiem" orbital strategic bombardment platform and begins to put it to his own uses. (← Sympathy rapidly fading.)
Finally, confronted by protagonist Kira Yamato, Durandal engages in a fierce debate (at gunpoint!) over the future of humanity; in the end, both the man and his plan fade into the pages of history.
Durandal, a master manipulator but also an inspiring orator, his messianic determination belied by his casual style, became not a scheming villain but the master of a single absolutist plan.
■ Ulube Ishikawa (Mobile Fighter G Gundam)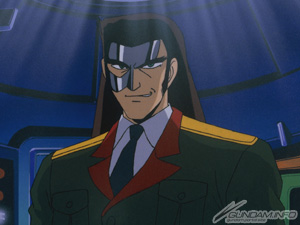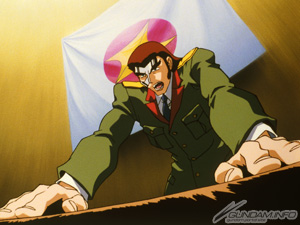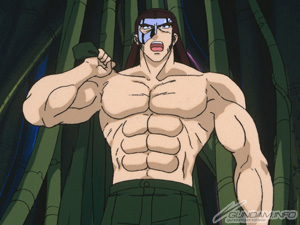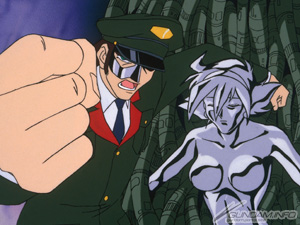 Next up is Ulube Ishikawa—not a masked man in the usual sense, but a man whose long hair and half-mask give him an unsettling air. The lithe but muscular Ishikawa not only leads the colony nation Neo Japan's military, but holds its political power behind the scenes as well.
While his combat skills are those of a martial arts master, he lacks inner serenity. When this character flaw causes his loss at the Gundam Fight, a tournament in the classic sense structured to avoid full-scale war between colonies, his rage drives him to seek other paths to victory. Although he's easily ruthless enough to be a classic villain, the meticulous planning of each individual power grab and self-aggrandizement qualify him as a schemer and a mastermind.
Initially, Ulube conspires with Professor Mikamura, the father of protagonist Domon Kasshu's love interest Rain Mikamura, in a plan to take control of the Ultimate Gundam (a machine for environmental cleanup efforts designed by Mikamura and Domon's father Raizo, which would after its descent to Earth go out of control and become the Dark Gundam.) However, Domon's brother Kyoji was able to steal the Gundam before their plan could succeed, and Ulube's reaction is to sentence Raizo to forced cold sleep (in order to silence him,) then portray Kyoji as the villain and send Domon to Earth as a participant in the Gundam Fight in order to earn his father's release. (Domon and Rain spend large portions of the series deceived by Ulube.) The road to Domon's victory inevitably (to see how, watch
Mobile Fighter G Gundam
!) leads through the Dark Gundam, and as Domon celebrates his championship Ulube spirits away the Dark Gundam's remains. He then assassinates Prof. Mikamura after Mikamura's change of heart, and revives the Dark Gundam (originally the Ultimate Gundam) by using Rain Mikamura as a human sacrifice-cum-biological control unit. (← Definitely ending up on the villainous end of the scale!)
In the end, the Dark Gundam completely envelops and assimilates Neo Japan, becoming the Dark Gundam Colony. Ulube himself, in a final sortie, pilots the Grand Master Gundam (a combination of previous Dark Gundam-infested fighters) in a battle against Domon and the Shuffle Alliance.
Ulube's scheme to dominate humanity through the Dark Gundam turned him into the monster he meant to control, making him if nothing else easily the greatest of all Gundam schemers as measured by gross tonnage.
And for now, that's all for our second look at the schemers of Gundam!
Oh, isn't Gundam just so fascinating?
Well, well, well, well, well, well, well, well, well, well, well, well, well, well, well, well, well, well, well, well, well, well, well, well, well, well, well, well, well, well, well, well, well, well, well, well, well, well, well, well, well, well, well, well, well, well, well, well, well, well, that's it for this week. We're getting close to the exciting climax, so look forward to what's coming next time, when we take another laid-back (?!) look at what makes Gundam Gundam!
[Author profile]
Ema Baba
Scriptwriter. Troublemaking scenarist.
Learning more every day to teach you about the fun of Gundam!
Abilita i cookie per visualizzare gli articoli raccomandati