"What is 'Gundam', anyway?" This simple (?) question is answered in our 43rd weekly column just for new fans!
by Ema Baba
 A super-simple intro column for new Gundam fans has infiltrated and is replicating! We're back with Part 43 of what makes Gundam Gundam.
 You can see our previous coverage of what makes Gundam Gundam
here
, and this week we're back with another Gundam standard!
 Gundam features plenty of three-man teams—trios.
  From three blind mice to three wise men, trinities, triumvirates, and more, groups of three have always held something of a special place.
In part 43, we'll introduce you to the "Trios of Gundam (Part 1)"!
●●●
[Part 1]
Gundam's trios team up for powerful attacks!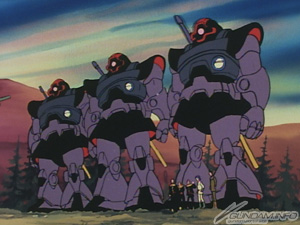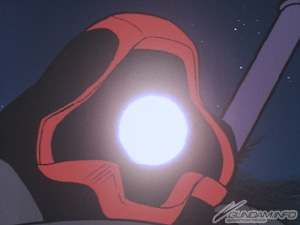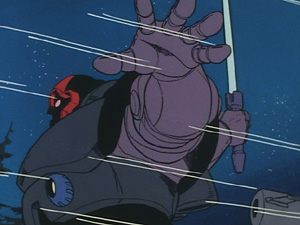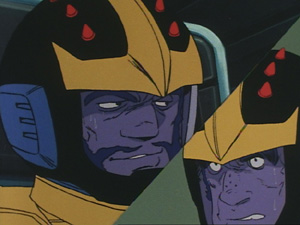 The Black Tri-Stars (Mobile Suit Gundam)
  When we talk about
Mobile Suit Gundam
's famous trios, first and foremost has to be its legendary director Yoshiyuki Trio! (fanfare)………… Wait, no, that's Yoshiyuki
Tomino
. I've had a really hard time focusing with the weather how it's been lately, and it looks like bad puns are just making it worse.  To atone, I will cut my... Well, stomach's taking it a bit too far. How about my nails? Snip, snip, snip…… Ugh, silly me, I cut that one to the quick.
 Anyway, enough small talk. Let's get to first
Gundam
's most famous trio, veritable icons of Zeon, the Black Tri-Stars!
  You'd think that such an iconic name would have appeared in an episode title, but... (← Check it out
here
!)
* Mobile Suit Gundam's 23rd episode, Black Tri-star, was titled Triple Dom Attack in Japanese.
  Members of Zeon's Mobile Assault Force commanded by Kycilia Zabi, Gaia (the bearded one), Mash (the one-eyed one), and Ortega (the bulky one) look the part of sweaty... er, beefy soldiers. Compared to effete elites like M'quve (a Captain in the MAF) they're much more rough-and-ready. Showered with medals and awards after their capture of Federation commander General Revil, if they took on M'quve in a fight, he'd be already dead.
 And of course, Kycilia, who gives them their orders, is no one to trifle with either. Then again, you could probably tell that just by looking at her... (← Just to be safe: that was meant as a compliment)
  Another visual standout is their heavy "MS-09 Dom" mobile suits painted in black rather than Zeon's standard green (← earlier, they'd piloted Zaku IIs in the same black/purple scheme.) These are no Zakus, boy, no Zakus (← ... is what a certain OTHER old soldier would say), and they have an... almost a hearty flavor (?!) that's completely different from the red Zaku.
 And then we come to their famous, awe-inspiring Jet Stream Attack! (fanfare #2) Leader Gaia breaks through defenses, setting Mash and Ortega up for perfectly-coordinated formation attacks.
 Red Zakus may have three times the speed, but black Doms can triple up on attack power!  Amazing, isn't it?  Aren't they just so badass? Don't they look so awesome?  ……Because of how strong they are, of course. Definitely not thinking of anything else here.
  Anyway. They go in for a Jet Stream Attack on Amuro (Amuro Ray, protagonist and the Gundam's pilot) and almost have him, Newtype powers or no, before a suicide attack by Matilda (Maltida Ajan, a Federation supply officer and Amuro's first crush) in her Midea transport plane. Ah, Matildaaaaaaaaaa! ……(sobbing)
 Even the sacrifice of strong, beautiful Matilda only takes out Mash. The Black Tri-Stars are definitely more than a match for your average MS pilot. And Gaia is a seasoned veteran. With the loss of Mash, he quickly orders Ortega to fall back while they reassess the tactical situation., turning what could have been a rout into an orderly retreat. To see what happens next, you'll have to watch
Mobile Suit Gundam
episode 24,
The Battle of Odessa
!
 Mourning their lost comrade and firing a salute while shouting "Grrr! Curse you, Gundam!" (← They don't actually do this.), Gaia and Ortega swear they'll take revenge on the Gundam. Their orders from M'quve to assault the "Trojan Horse", Zeon's name for the
White Base
, are at most a good excuse for their attempt to extract vengeance.
 M'quve's insistance on focusing on the
White Base
itself is almost like a mother's nagging "Did you do your homework yet?", matched with Gaia and Ortega's "But we're almost at the boss!" while clutching a controller. They even tell a squadron of Dopp fighters to "stay out of their fight with the Gundam, and just focus on the Trojan Horse!" See!  They're really not paying any attention to Mom'quve at all!
 And of course, with only two left, they can't pull off the full Jet Stream Attack anymore. There's still a lot of fight left in the black Doms, though. They manage to take out Guntank's treads, and knock Guncannon out of the fight, before closing in on the Gundam. Gaia, who himself was used as a step during the previous fight, leaps onto the G-Fighter to get at the Gundam.
 The passion driving Gaia and Ortega into a losing mano-a-mano (← dos-a-uno?) with the Gundam, apologizing to Mash with their last breaths for not being able to avenge him, is something the slimy M'quve, who scurries away from the battle muttering that Zeon "could fight for another ten years", will never understand.
 Gaia, Mash, and Ortega held their heads high and fought to the bitter end, carving the name of the Black Tri-Stars into history.
 And that's our first look at the trios of Gundam!  
 Oh, isn't Gundam just so fascinating?
  Well, well, well, well, well, well, well, well, well, well, well, well, well, well, well, well, well, well, well, well, well, well, well, well, well, well, well, well, well, well, well, well, well, well, well, well, well, well, well, well, well, well, well, that's it for this week. Next week we'll be taking another laid-back look at what makes Gundam Gundam!
[Author profile]
Ema Baba
Scriptwriter. Troublemaking scenarist.
Learning more every day to teach you about the fun of Gundam!
Abilita i cookie per visualizzare gli articoli raccomandati